This strawberry shortcake crumble is filled with a ton of flavor. Only a few simple ingredients in this recipe makes all of the magic happen. Quick and easy is an understatement when speaking of this easy strawberry shortcake crumble recipe!
What is strawberry shortcake crumble?
Strawberry shortcake crumble is the delicious topping that goes onto the strawberry shortcake recipe. It's made with vanilla pudding, strawberry jelly, butter, and flour. Then it's tossed into the oven for a short period of time to give you the most delicious strawberry shortcake crumble topping. This recipe can be enjoyed with my strawberry crunch cake recipe.
Jump to:
Ingredients for this strawberry shortcake crumble.
This strawberry crunch recipe is again so simple and can be thrown together within minutes. There are about 4 ingredients that can be found in your local grocery store. Here are the ingredients:
Strawberry Jello-This is the show's main star for this strawberry shortcake crumbles. It gives the entire strawberry crunch recipe the flavor.
Instant Vanilla Pudding-Adds a delicious taste of vanilla which compliments the strawberry jello.
All Purpose Flour-All this does is add more texture to the recipe and makes the actual strawberry crunch topping.
Butter-Using butter in this recipe gives you that rich butter taste that everyone loves when you taste this recipe.
How to make strawberry crunch topping?
The simplicity of this recipe never ceases to amaze me. I would definitely call this one, a 1 bowl dessert. Why? Because everything is thrown into one bowl, then placed on a baking sheet to cook up perfectly!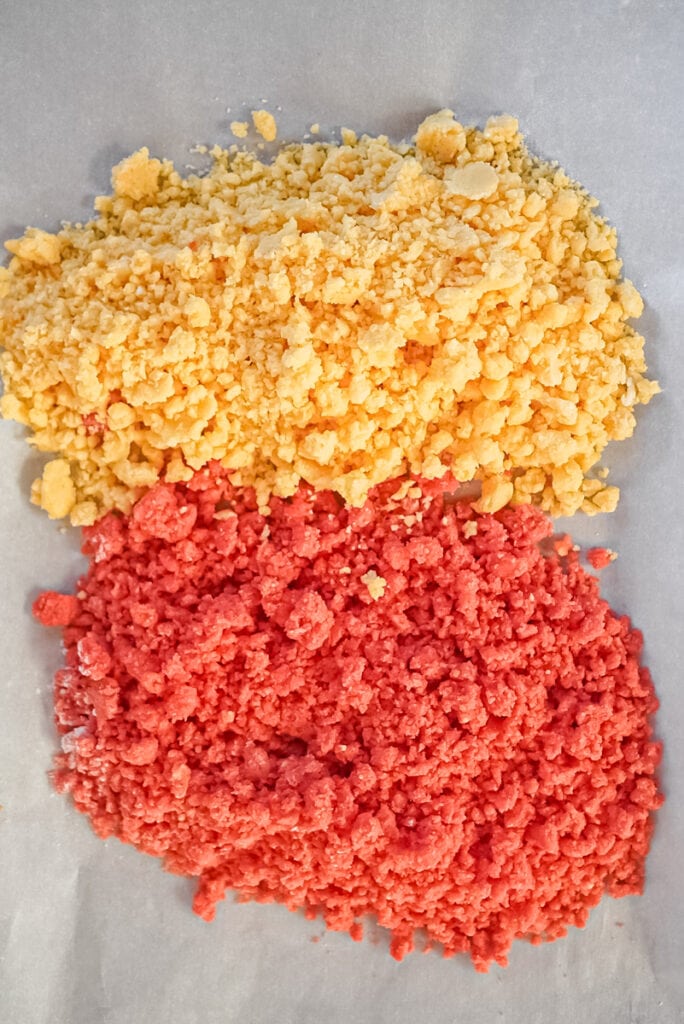 Variations
If you are looking for another way to make this strawberry shortcake crumble recipe, you can try this method which involves no baking but does include a food processor.
10 Golden Oreos
1 Cup Freeze dried strawberries
2 Tablespoon Softened Butter(salted)
You want to add everything into a food processor and allow it to mix until everything becomes crumbled. That's another way you can enjoy this recipe.
What you will need to make this recipe
The good news about this recipe is that you don't need a food processor. You pretty much don't have to go out and buy anything but the ingredients. I find a food processor at the end of my kitchen must-have list. Just use your hands and a baking dish with parchment paper, of course.
Storage for strawberry crunch
The storage is quite a breeze. You only will need an airtight ziplock bag. Make sure you have one that doesn't open back easily when closed. You can also store the crumbles in an airtight container.
Reheating
The good news is that once you take the strawberry shortcake to crumble out of the oven, you don't have to rewarm things at all. Just take them out of storage and enjoy. If you do decide to warm the jello mixture, I would only warm it for about 10 seconds.
Commonly Asked Questions
How to serve strawberry crumbles
You can eat this strawberry crunch recipe as is, or you can place it on your strawberry crunch cake. You can also mix it into some vanilla ice cream. I just have to say that I tried it, and boy is it addictive!
Where to buy strawberry shortcake crumble?
If you aren't making homemade strawberry crunch, you will want to go to a Walmart near you to find this crumble. You can also place an order on Amazon and get it straight to your front door. I will link that item here.
What is strawberry crunch made of?
The cool thing about this strawberry shortcake crumbles recipe is that you don't need all of the golden Oreos or the freeze-dried strawberries. You will need a pack of instant jello pudding, instant vanilla pudding, room-temperature butter, and some flour. That's all you need. You can get all of these things from the grocery store for less than $10, and you will have a ton of leftovers!
How many calories are in strawberry crunch?
1 serving of this strawberry shortcake crumble cake is about 30 grams. You are looking at about 150 calories per slice. It isn't that bad to indulge in a small piece of heaven, right?
I know that you will enjoy this recipe, so why not enjoy more delicious recipes?
Well, until next time, folks!