Strawberry crunch cake is rich and fluffy on the inside and sweet and crunchy on the outside. I mean, seriously, we are talking strawberry cake heaven here. Not to mention the cheesecake in the middle. I don't know about you, but I could eat this cake daily. I mean, seriously, it's just that good!
What is strawberry crunch cake?
Strawberry crunch cake is a layered cake that can be made with strawberry cake mix or vanilla cake mix. This cake usually has about 2 layers, but you can make this cake three layers as I did. The middle of this strawberry crunch cake is filled with delicious cheesecakes that complement the entire cake. Once this cake is layered, it's then covered with homemade icing the covered with the pre-made strawberry crumble.
Jump to:
Ingredients for strawberry crunch cake
Butter-Makes the icing on this strawberry crunch cake recipe.
Powdered Sugar-Also helps to make the icing and gives it a sweet taste.
Vanilla Extract-Adds a ton of flavor to your cake.
Cream Cheese-The main ingredients for the cheesecake will be in the middle of the cake.
Cornstarch-Brings thickness
Heavy Cream-Allows
Eggs-Helps in binding all of the ingredients together.
Strawberry Box Cake-Star of the show. Easy way to build the cake without making it from scratch.
Heavy Cream- Helps to withhold the cheesecake together.
Sugar-Sweetens the cake.
Flour-Lends a help and hand in making the best homemade strawberry crunch cake.
Milk-Helps to create a softer, fluffier cake.
Vegetable, Oil-When mixed with the cake mixture, helps in forming the cake.
Strawberry Jello- Makes the crumbles.
How to make strawberry crunch cake
This strawberry shortcake with cheesecake has many steps, but I believe it is worth it. Once you have made this cake a couple of times, you will make it a lot easier.
Cheesecake
Strawberry Cake
Strawberry Crumble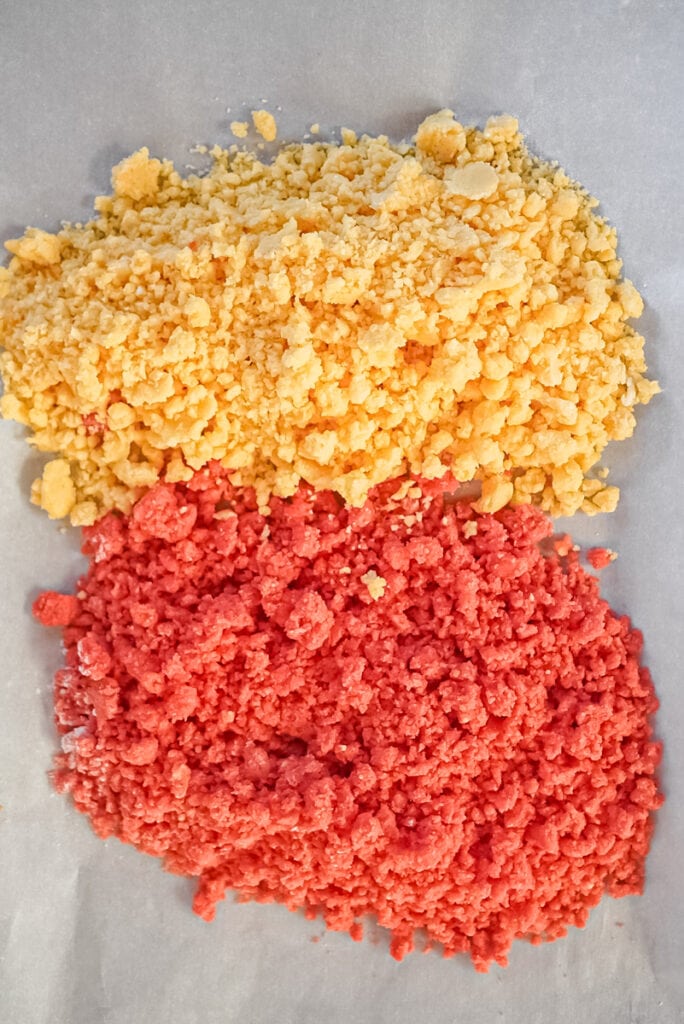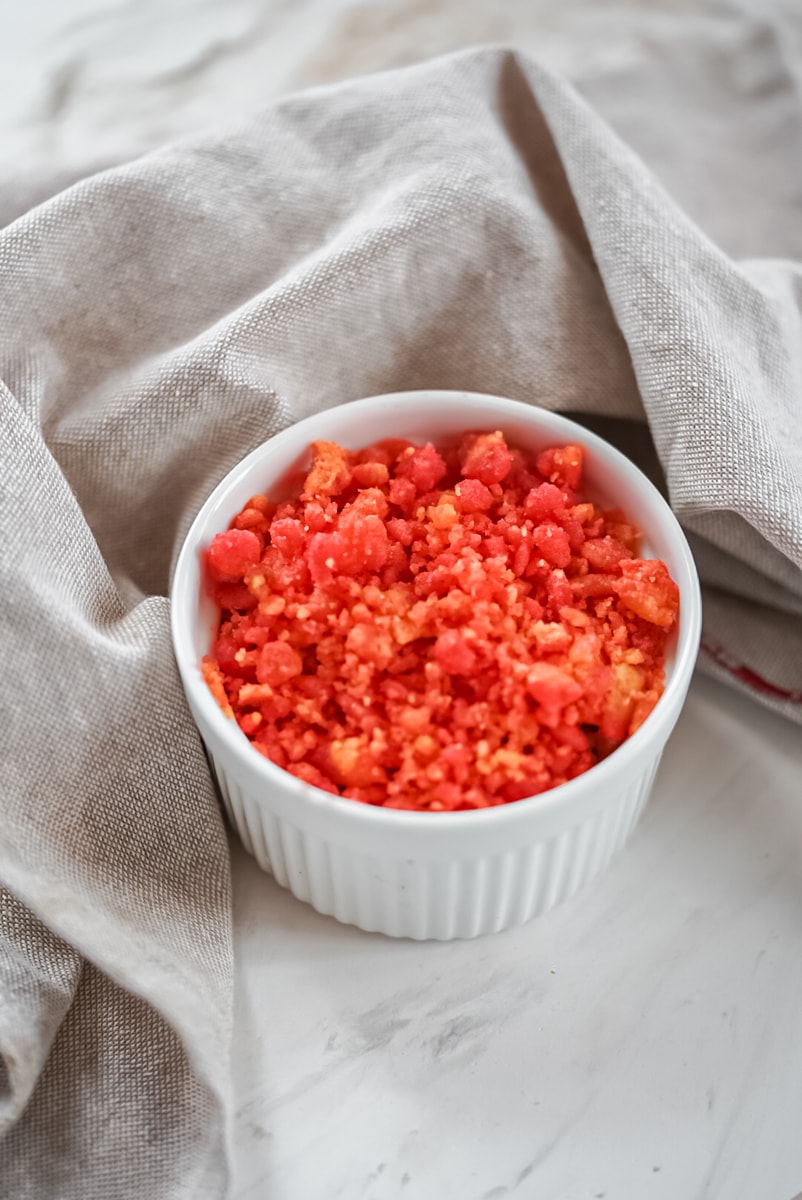 Variations
The thing I love about this cake is how much variety this cake has. Here are a few ways you can spunk up this recipe.
Strawberry Oreo Crunch Pound Cake- You can add Oreos to this cake and also make it a pound cake. This will make for a beautiful presentation. Strawberry Oreo crunch cake isn't to be taken lightly at any holiday event. It's for sure gonna be a showstopper.
Strawberry Crunch Bundt Cake- You don't have to make this a 3-layer cake. You can simply remove the crunch cake cheesecake and add the mixture into a Bundt cake pan. There you have it, an easy strawberry crunch cake!
No Cheesecake Strawberry Crunch Cake- You can choose to remove the cheesecake from this recipe and only have your homemade strawberry crunch cake recipe.
Equipment you will need
You will need 3 9-inch circle baking dishes in order to be able to mimic this recipe thoroughly. You will also need an electric mixer to make the icing. As well as a cake tray.
Storage
When storing this cake, you need to make sure it is stored at room temperature. You can store this cake in an airtight cake storage container which can be found on Amazon. They really come in handy when trying to preserve your cake and keep the decorations in place.
Tips for this cake
Don't open the oven until the recommended time is allowed. Use the oven light to gauge things.
Follow the recipe instructions fully. Going away from the recipe will almost always result in a different outcome unless you are an experienced baker.
Don't over-mix the cake batter.
Measure properly
Don't under mix
Always use room temperature ingredients (trust me, it's a science to it).
Use parchment paper
Always allow cooling before eating or decorating.
Looking for a delicious dinner to have with this cake? Here are a few that I think you would love!
Well, until next time, folks.