Baked Chicken Drumsticks anyone? Chicken drumsticks are an incredibly adaptable ingredient for unforgettable meals. Whether roasted, grilled, baked or fried. Chicken drumsticks are so juicy and tender, especially when cooked in the oven or slow cooker. Plus, they're also highly economical which makes them a great choice for family feasts!
Why you will enjoy this recipe
One Pot Meal- this recipe is pretty simple and delicious. Everything is made in one pot then placed in the oven.
Kid-Friendly-This recipe is kid friendly and can be enjoyed without the rice or only the chicken. It's completely up to your kid.
Meal Prep-If you are looking to shed those few extra pounds and looking for a baked chicken recipe then this is the recipe for you. It's definitely convenient and can be tossed into a meal prep container easily.
Quick and Easy- This recipe is pretty easy, and the biggest task is browning the chicken drumsticks. After, that this one pot meal goes into the oven until done.
Baked Chicken Drumsticks Ingredients
Chicken Drumsticks are an exciting way to make your baked chicken drumsticks meal special! This classic cut of poultry can be prepared in various creative ways, from marinating and grilling for a smoky flavor to coating with batter and deep-frying for that perfect crunch. Chicken drumsticks are brimming with sustenance, are moderate in cost, and require minimal cooking time, making them easy for busy weeknight dinners or family barbecues. The versatility and delectable taste help transform any cuisine into something unique and delicious. So why not spice up your following menu with some succulent chicken drumsticks?
Chicken Broth- Has been a go-to in the kitchen for centuries, as it is one of the most versatile and flavorful ingredients to use in cooking. Why cook with chicken broth? Its rich, savory flavor adds depth to almost any dish, from sauces to soups to stews! And it's also much healthier than many other options because it contains no added preservatives or flavorings.
Remaining Ingredients
White Rice- In addition, cooking with white rice is a great way to ensure tasty mealtime options without overwhelming yourself in the kitchen. Why? Using white rice as the base for your dish is an easy and accessible ingredient that can be used in many versatile ways. White rice is always perfect, no matter what ingredients or flavors you're aiming to bring into your dish.
Olive Oil-I used olive oil to help with the coverage of the seasonings. If you don't have olive oil, you can use any other cooking oil you prefer.
Butter- Using butter is an easy and delicious way to add flavor to meals. Whether baking a cake or cooking a delicious breakfast, butter adds an unmistakable richness that enhances the culinary experience. Not only does butter provide enhanced flavor, but it also imparts beneficial nutrients such as Vitamin A and Omega-3 fatty acids to every dish. Furthermore, butter is incredibly versatile and can be used in sweet and savory recipes like no other ingredient. Butter is the perfect addition for any home chef looking to create something extraordinary, from banana bread to fried chicken.
Ingredients Continued
Adobo Seasoning- If you are tired of eating plain and boring meals, adding adobo seasoning is the perfect solution! Not only does adobo seasoning add an excellent kick to any dish, but it also adds depth and complexity to your meals, unlike any other spice. With a blend of onion powder, garlic powder, oregano, cumin, pepper, turmeric, and paprika, adobo can be used on almost anything!
Paprika-A fantastic flavor enhancer that can elevate any dish it's added to. The unique, smoky flavor of paprika adds the perfect accent to salads, soups, and just about anything else. Even better, paprika is extremely nutritious and is loaded with antioxidants like vitamin E, carotenoids, lycopene and lutein – all of which have been linked to numerous health benefits.
Salt- I only choose to use about a teaspoon of salt in this one one pan baked chicken meal but you can use as much or as little as yo would like.
Garlic Powder- You can't ever go wrong with that garlicky taste being added to your baked chicken drumsticks.
Red and Green Bell Peppers- You want to use the peppers in this dish. The bell peppers bring a ton of flavor to this baked chicken dish. They have a slight sweet taste and when paired together they both compliment one another well.
Onion- When I used onions in this recipe, I made sure I browned them so they would soften a little to give this meal that semi charred onion taste but not burnt.
How To Bake Chicken in the oven?
I have chicken drumsticks on hand in my deep freezer at all times so when it comes to making a quick one pan meal. I am all here for it. This baked chicken recipe has about 3 to 4 simple steps that I know you will enjoy! Baking chicken in the oven is an exciting way to kick-start any meal. With just a few simple steps, you can create a succulent and flavorful dish.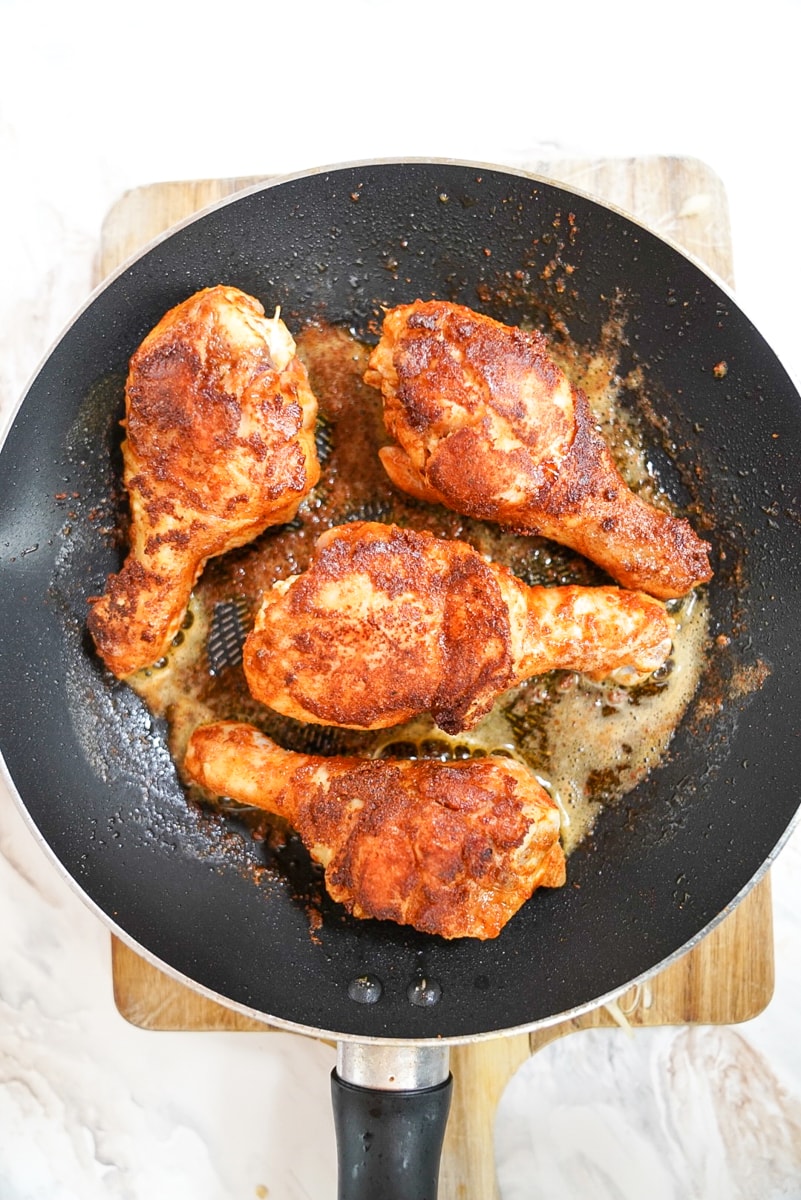 Variations
There's no doubt that chicken is one of the most popular and versatile proteins out there. There are an endless number of variations for cooking chicken, from roasting a whole bird to frying at high heat and everything in between. Whether you're looking for something quick and easy to whip up on a weeknight or a show-stopping meal for special occasions, chicken can be tailored to whatever situation. You can prepare it every kind of way imaginable: from grilling to braising, barbecuing to stewing, each method brings its own unique flavor and texture profile. The options are truly limitless when it comes to cooking up delicious variations using this versatile ingredient!
Equipment
You will need a deep-dish pot that is oven safe.
Storage
You can store this recipe in an airtight container or an airtight Ziplock bag.
Tips to be successful
When you want to master the art of cooking succulent chicken, there are a few tried and true tips that can make all the difference.
Start by marinating your chicken in spices like garlic, thyme, or oregano to give it a kick of flavor.
Consider cutting your chicken into smaller pieces to ensure that it cooks evenly inside and out.
Finally, your golden rule for successful cooked chicken should be to always use a food thermometer. This can help you avoid undercooking or overcooking your dish! With these tips at hand, you'll be enjoying your perfectly cooked chicken meals in no time!
Quick FAQs
How long to bake chicken drumsticks at 400?
If you're looking for the perfect chicken drumstick recipe, look no further! Baking chicken drumsticks at 400 degrees is a simple and tasty.
So, how long should you bake them? I would say depending on the size and thickness of your chicken drumsticks. Anywhere from 25 to 40 minutes is a reasonable amount of time.
In addition, did you enjoy these baked chicken drumsticks? Check Out more recipes here: