Grandma's chicken and rice is one of my favorite baked meals I enjoyed as a kid. This meal screams Southern comfort. With every bite, there is a flavor explosion on your tastebuds! This cozy chicken meal is cooked in one pot, so the cleanup is minimum. The chicken is perfectly seasoned and then tossed into a skillet of sizzling butter. The adobo-seasoned rice makes grandma's chicken and rice the perfect Mother's Day meal or any meal.
Why you will enjoy Grandma's Chicken and Rice
One Pot Meal- this recipe is pretty simple and delicious. Everything is made in one pot and then placed in the oven.
Kid-Friendly-This recipe is kid friendly and can be enjoyed without the rice or only the chicken. It's completely up to your kid.
Meal Prep-If you are looking to shed those few extra pounds and looking for a baked chicken recipe, then this is the recipe for you. It's convenient and can be tossed into a meal prep container easily.
Quick and Easy- This recipe is easy; the biggest task is browning the chicken drumsticks. After that, this one-pot meal goes into the oven until done.
Jump to:
Grandma's Chicken and Rice Ingredients
Chicken Drumsticks are an exciting way to make your baked chicken drumsticks meal special! Drumsticks are extremely inexpensive as well. Not to mention kids and adults love them!
Chicken Broth- This has been my mother and grandmother's go-to in the kitchen for centuries, as it is one of the most versatile and flavorful ingredients to use in cooking.
Remaining Ingredients
White Rice- Cooking with white rice is a great way to ensure tasty mealtime options without overwhelming yourself in the kitchen. Why? Using white rice as the base for your dish is an easy and accessible ingredient that can be used in many versatile ways. White rice is always perfect, regardless of the ingredients or flavors you aim to bring into your dish.
Olive Oil-I used olive oil to help with the coverage of the seasonings. You can use any other cooking oil if you don't have olive oil.
Butter- Using butter is an easy and delicious way to flavor meals. Whether baking a]unmistakable richness that enhances the flavor.
Ingredients Continued
Adobo Seasoning- Adding adobo seasoning is the perfect solution to hype up those boring seasonings! Not only does adobo seasoning add an excellent kick to any dish, but it also adds depth and complexity to your meals, unlike any other spice.
Paprika-A fantastic flavor enhancer that can elevate any dish it's added to. The unique, smoky flavor of paprika adds the perfect touch to salads, soups, and just about anything else. Another good reason for using this paprika in my Grandma's chicken and rice recipe is it's loaded with antioxidants like vitamin E.
Salt- I only use about a teaspoon of salt in this one-pan-baked chicken meal, but you can use as much or as little as you would like.
Garlic Powder- You can't ever go wrong with that garlicky taste being added to your baked chicken drumsticks.
Red and Green Bell Peppers- You want to use the peppers in this dish. The bell peppers bring a ton of flavor to this baked chicken dish. They have a slightly sweet taste, and when paired, they complement one another well.
Onion- When I used onions in this recipe, I browned them so they would soften a little to give this meal that semi-charred onion taste but not burnt.
How To Bake Chicken in the Oven?
I always have chicken drumsticks in my deep freezer, so when it comes to making my Grandma's chicken and rice baked meal. I am all for it. This baked chicken recipe has about 3 to 4 simple steps that I know you will enjoy! Baking chicken in the oven is an exciting way to kick-start any meal. You can create a comforting and flavorful dish with just a few simple steps.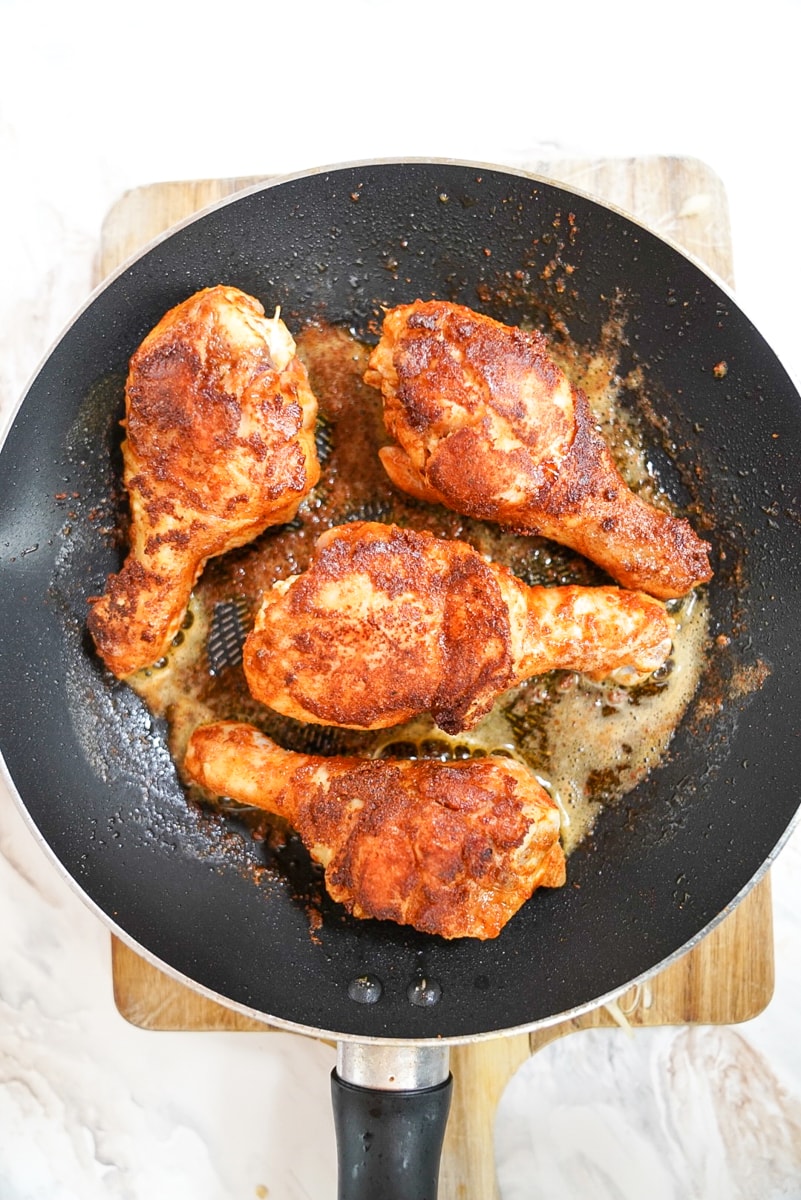 Variations/Substitutions
Spice things up You can add different spices and herbs to take this meal to the next level. You can even add a few drops of Louisiana hot sauce.
Chicken Breast- The great part about my Grandma's chicken and rice recipe is that you don't have to use chicken drumsticks. You can use chicken breast or even chicken tenders.
Equipment
You will need a large pan. I used a 6-quart pan.
Storage
You can store this recipe in an airtight container or Ziplock bag.
Tips to be successful
When you want to master baking my Grandma's chicken and rice chicken, a few tried and true tips can make all the difference.
Start by marinating your chicken in the spices. You can give this chicken and rice meal more flavor if you allow the chicken to marinate overnight.
Finally, your golden rule for successfully cooked chicken. I always use a food thermometer. This can help you avoid undercooking or overcooking your dish! With these tips, you'll enjoy your perfectly cooked chicken meals in no time!
Quick FAQs
Can Grandma's Chicken and Rice Be Made Ahead
Yes, this one-pot chicken and rice meal is the perfect make-ahead dish. It's perfect for meal prep.
In addition, did you enjoy these baked chicken drumsticks? Check Out more recipes here:
Preheat your oven to 350 degrees

To a bowl add in all of your seasonings and mix together well.

1 Teaspoon Salt,

1 Tablespoon Adobo Seasoning,

1 Tablespoon Garlic Powder,

1 Teaspoon Paprika

Next, add olive oil to the chicken along with seasonings. Mix Well.

1 Tablespoon Olive oil,

4 Chicken Drumsticks

Next, heat your butter in a pan on medium-high until melted.

Add your seasoned chicken to the pan and allow to sear on both sides of the chicken for 5 minutes.

Remove the chicken from the pan and sit to the side

Add in your chopped onions and bell peppers(sauté until slightly browned)

Red Bell Pepper,

Onion,

Green Bell Pepper

Next, Add in your white rice.

Next, stir the rice for 3 to 4 minutes and stir in your chicken broth.

Add your chicken back into the pot of rice

Place in the oven uncovered for 35 minutes or until the liquid has fully dissolved in the the chicken and rice

Remove from the oven and enjoy!
Calories:
524
kcal
|
Carbohydrates:
64
g
|
Protein:
24
g
|
Fat:
19
g
|
Saturated Fat:
3
g
|
Polyunsaturated Fat:
2
g
|
Monounsaturated Fat:
6
g
|
Trans Fat:
0.04
g
|
Cholesterol:
74
mg
|
Sodium:
1508
mg
|
Potassium:
351
mg
|
Fiber:
1
g
|
Sugar:
1
g
|
Vitamin A:
86
IU
|
Vitamin C:
2
mg
|
Calcium:
59
mg
|
Iron:
2
mg
Last Updated on October 20, 2023 by Ronalyn Alston | Published: December 7, 2022