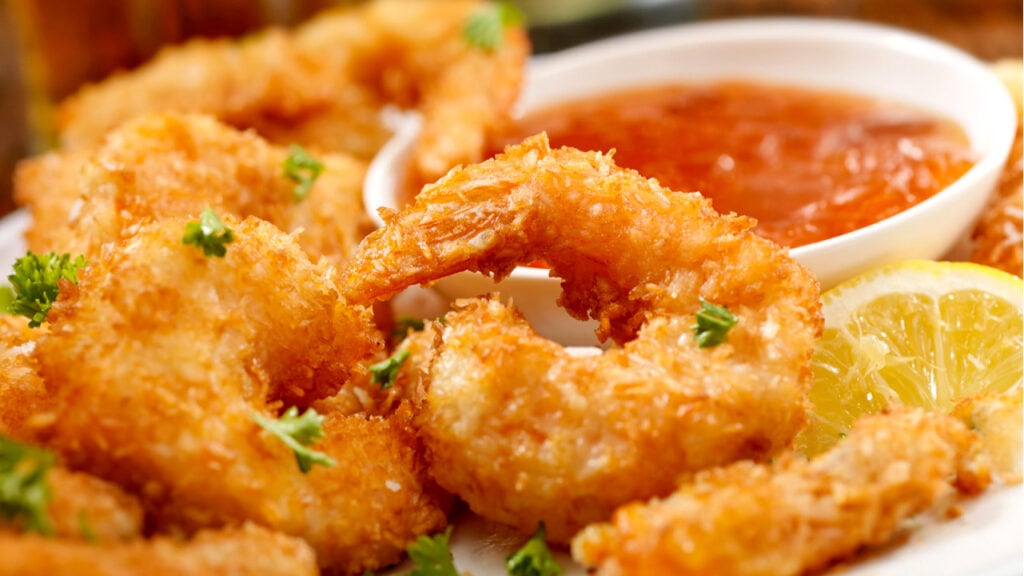 Easy, coconut shrimp anyone? This coconut shrimp recipe isn't one to be taken lightly. I mean the simplicity in this recipe is what sells it to me. Not, to mention all the crunchiness and sweetness that comes along with this meal. The shrimp is dried off and then dip in a seasoned bed of flour. Wait that's not it! Then you dip the shrimp in eggs and here is the best part. Lastly, you dip the shrimp in a delicious and crunchy bed of sweetened coconut flakes and breadcrumbs. Doesn't this sound like something you would want to make? So, let me stop all the talking and show you how to make these delicious coconut shrimp air fryer recipes!
Ingredients for coconut shrimp
Shrimp: I chose to use extra-large peeled and deveined shrimp. You can use smaller shrimp, but the coating is best on large shrimp.
Flour: The flour I used in this coconut shrimp recipe is all-purpose flour. I have used almond flour in this recipe as well. I must admit. It didn't taste quite the same. Not horrible but not how the original recipe tasted.
Breadcrumbs: I used Panko breadcrumbs. Using these breadcrumbs helps to give the shrimp that crunch we like to taste and hear.
Eggs: For this recipe, I used 2 large eggs. The eggs are used for coating the shrimp so that the other ingredients stick!
Coconut: Sweetened coconut flakes. You can choose to use unsweetened, but I will tell you that the sweetened coconut flakes give this recipe that extra kick!
Seasonings: I kept the seasoning very simple, and you can pretty much use your own. I used my handy seasoning salt, paprika, and a little bit of garlic powder. That's it.
How to make coconut shrimp?
This coconut shrimp recipe is a healthier choice. It's a healthier choice simply because we opt-out of using all that grease to fry these babies. This recipe has about 10 steps and you will be done.
Preheat your air fryer to 360 degrees
Clean and pat your shrimp fry
To a bowl add your shrimp
Next, you want to season your shrimp to your liking
Gather 3 separate bowls
To one bowl add flour, to the other bowl add in your eggs (whisk eggs), and lastly, add your Panko crumbs and sweetened coconut flakes
Seasoning your flour lightly with the same seasoning you used to season your shrimp
Place your shrimp in the flour first (make sure to cover the shrimp with flour on both sides). Next, place the shrimp in your eggs then into your Panko crumbs and sweetened coconut flakes.
Spray your air fryer with nonstick spray then add in your shrimp. You want to make sure the shrimp aren't touching.
Cook for 10 to 12 minutes and flip the shrimp over at the halfway mark and cook for the remaining time. As a result, you will have delicious crunchy shrimp
Lastly, Eat with sweet chili sauce... Garnish with parsley
Enjoy
Lastly, If you made this recipe, please don't hesitate to tag me on Instagram @ronalynalston.