These air fryer beef tips are perfect for a delicious, quick, and easy meal. Garlicky, finger-licking goodness is what I like to call these air fryer beef tips. They are marinated, refrigerated then tossed into the air fryer for a beautiful, charred finish. Well, enough of my bragging. Let me show you how to make it.
What are beef tips?
Beef tips are a cut of meat that comes from sirloin steak. They are extremely tender and can be cooked up in a matter of minutes. You will want to enjoy this recipe with my air fryer green beans or my roasted broccoli.
This recipe is definitely a copycat of Texas Roadhouse beef tips.
Jump to:
Ingredients for air fryer beef tips
Beef Tips-they come precut in the meat section of the store. Beef tips near me are in stores like Publix, Walmart, and Costco just to name a few places to look. You can also ask a butcher to cut them for you or simply buy a steak and cut it into bite size pieces.
Minced Garlic-Adds a great deal of flavor. You can use regular garlic powder if you don't like the minced garlic in the recipe.
Salt-Salt helps tenderize the beef tips and also adds flavor.
Peppers-Add a kick of spice.
Worcestershire Sauce- Used to marinate the beef tips.
How to cook air fryer beef tips
Air fryer beef tips are extremely easy to make. You will need a small amount of ingredients as I mentioned. Gather them and let's get to cooking.
Substitutions
Minced Garlic-you can substitute the minced garlic in this recipe for garlic powder.
Seasoning's- You can choose to use any kind of seasoning you would like.
Variations
The fun thing about this recipe is that you can switch things up and make it so many different ways. For instance
Air fryer beef tips with gravy- you can air fry these beef tips then add them to gravy. You can use the prepackaged gravy or homemade gravy if you like.
Beef Tips and noodles- I added my beef tips to Roman noodles with sauce and they came out delicious
Air fryer beef tips with potatoes- You can make twice baked air fryer potatoes to enjoyed with this beef tips or a regular baked potato.
Instant pot beef tips- Placing them in the air fryer will ensure for a good and tender plate of beef tips. Just add gravy.
Just to name a few things you can do with this recipe. Your options are endless.
Equipment
This recipe is made easy all the way around. Even when it comes down to the equipment you will need which is a airtight ziplock bag and an a air fryer of course. Lol
Storage
If you have anything lefted over from this delicious recipe than you will want to store them in an airtight container and store them in the refrigerator.
Storage
Place these air fryer beef I the oven for 30 seconds. I wouldn't warm them up any longer because they will become tough.
Tips
Try not to over cook your beef tips. I have tested this and air frying them at a temperature of 400 degrees for 10 minutes does dry the meat out.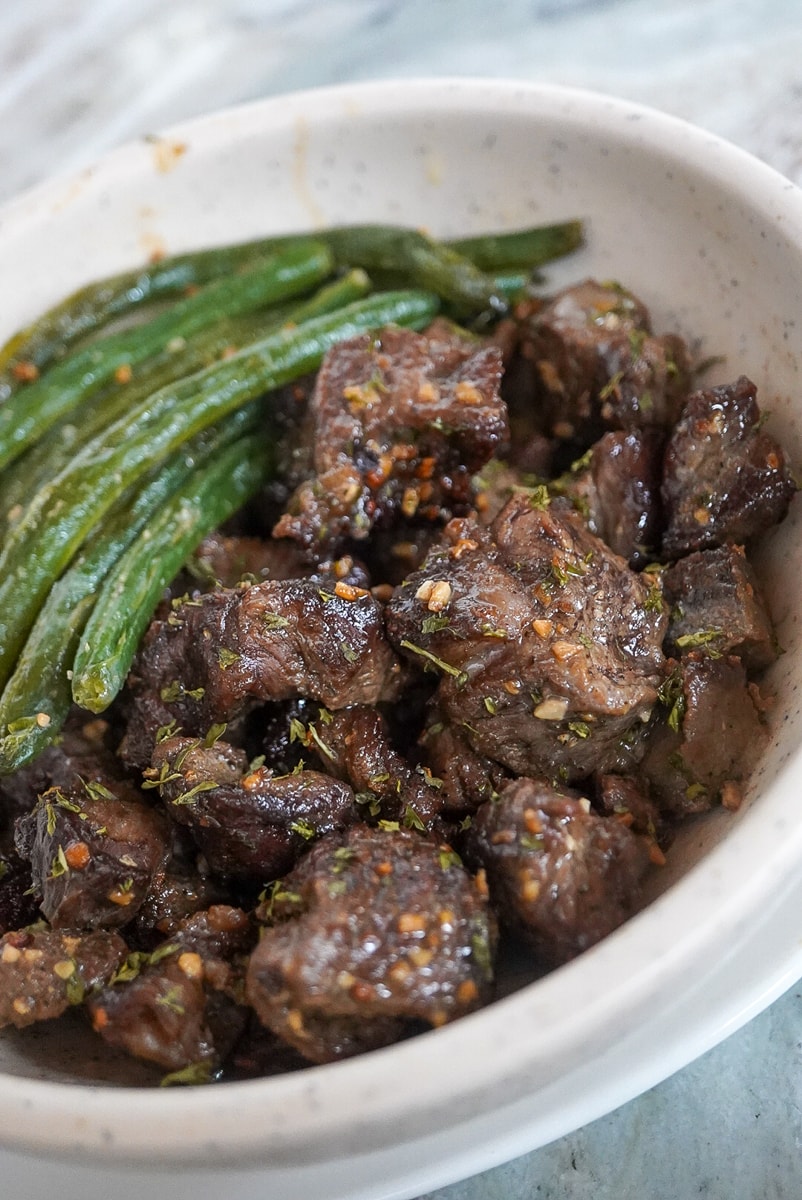 Common Questions
How long to cook beef tips in air fryer
They cook rather quickly so that can be a tricky question because it depends on the type air fryer you have and also the temperature you place the air fryer to. Ultimately, I would say it will take about 5 to 6 minutes to make these copycat Texas Roadhouse beef tips but make sure the inside temperature is 145 degrees inside.
Are beef tips the same as stew meat
Beef tips and stew beef isn't the same. Beef tips are cut from sirloin or tenderloin. While beef stew meat is cut from the shoulder.
Here a more beef recipes
If you didn't buy the precut beef tips go ahead and cut your meat into bite-sized pieces.

To a ziplock bag add in your beef tips along with all of your seasonings and Worcestershire sauce.

Sit in the fridge for 30 minutes

Preheat your air fryer to 400 degrees

Place your air fryer beef tips into the air fryer making sure not to overcrowd the air fryer.

Allow to cook for 10 minutes and enjoy
Calories:
322
kcal
|
Carbohydrates:
4
g
|
Protein:
50
g
|
Fat:
11
g
|
Saturated Fat:
4
g
|
Polyunsaturated Fat:
0.5
g
|
Monounsaturated Fat:
4
g
|
Cholesterol:
138
mg
|
Sodium:
1513
mg
|
Potassium:
925
mg
|
Fiber:
0.3
g
|
Sugar:
2
g
|
Vitamin A:
19
IU
|
Vitamin C:
2
mg
|
Calcium:
87
mg
|
Iron:
5
mg
Last Updated on November 17, 2022 by Ronalyn Alston | Published: November 16, 2022