Garlic butter steak bites are on the menu at my house at least once a week. I guess you can say I'm a huge fan. I mean, seriously, these steak cubes, along with some roasted potatoes! You're talking pure bliss. So, what's on your menu for tonight? If you are having trouble answering that question. Let me make things easy for you! All you need is a handful of ingredients. I can guarantee you that it's a quick and easy recipe that you will have ready to serve your entire family in minutes.
Jump to:
What Are Garlic Butter Steak Bites?
Garlic butter steak bites are bite-sized pieces of a cut of steak marinated in a garlicky butter sauce and then tossed into a hot cast iron skillet to sizzle away. Did I mention that it includes simple ingredients? Now, don't these juicy garlic butter steak bites sound delicious and tempting, folks? Oh, another thing about these juicy steak bites is that you can cook your steak pieces in the oven or air fryer!
Grocery Store List for Garlic Butter Steak Bites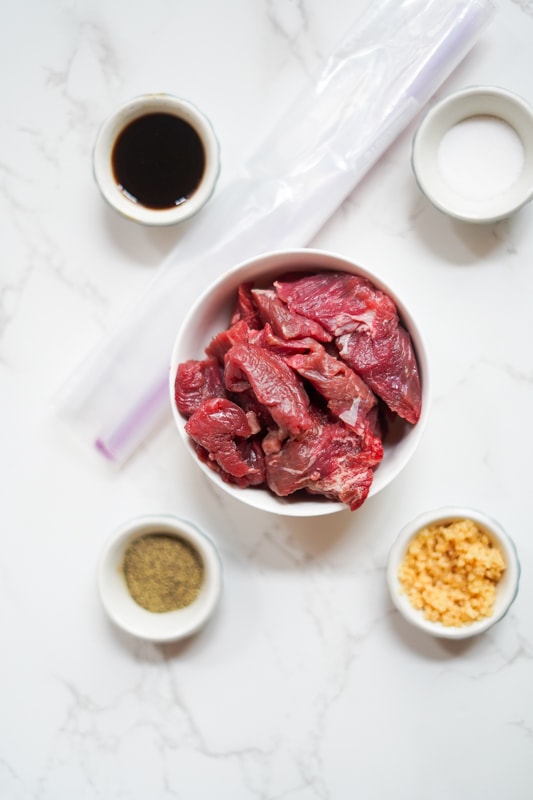 Steak- I used top sirloin steak, but you can use any good steak, such as tri-tip steak, ribeye steak, or a New York strip steak. It's your preference.
Worcestershire Sauce- This is where all the flavor comes in. You want to try to let your garlic steak bites marinate in that sauce.
Seasoning- Garlic Powder, black pepper, thyme, and Montreal steak seasoning.
Minced Garlic- This easy meal would not be the same without the garlic. This, along with the Worcestershire sauce, complements things well.
Butter- Salted or unsalted is just fine.
Olive Oil- This, combined with the butter, will give you a lot of flavor.
You can all find the full Printable recipe card below.
How To Cook Garlic Butter Steak Bites? 
This has got to be one of the easiest and most convenient ways to cook a meal. These steak bites are, again, so easy to make.
The very first thing you will want to do is gather all of your ingredients together.
Next, in a bowl, add your diced steak. Season your steak, add minced garlic, and pour Worcestershire sauce over the steak.
Take your hands and mix those ingredients together well. Once you have everything mixed up, at this point, you can let them marinate overnight or for up to 12 hours. This step is optional.
You want to preheat your pan to medium-high. Add in your butter, along with a small amount of olive oil.
Next, you want to add in your steak bites. Don't overcrowd the pan.
Lastly, let them cook on a hot sear until lightly browned. Once the outside of the steak becomes brown, drain the butter mixture from the pan and add them back into your steak bites. Allow them to cook until they have a nice crust. Add in some more butter, and enjoy! Optional: Add your favorite sauce or enjoy it with leftover steak bites sauce.
Substitutions
If you don't have Montreal seasoning, you can use any steak seasoning you choose. McCormick and Kinder's seasoning has some awesome ones. You can also try using fresh herbs other than the thyme.
Variations
If you want to spice things up, you can add red pepper flakes to these little bite-size. This is an easy way to spice things up. Also, you can add your favorite steak sauce.
Storage
Leftover steak bites can be stored in an airtight container.
Pairing ideas
A good pairing is garlic butter steak bites, along with the potatoes, as I mentioned above. You can also add Brussels sprouts, broccolini, or even some mashed potatoes.
What type of steak can I use for this recipe?
I used 2 pounds of sirloin steak for this recipe, but you can definitely use any other type of steak you would like. I have used rib eye steak with this recipe as well, and the recipe came out great either way.
Tips:
Allow your steaks to marinate overnight for more flavor.
Add your favorite steak sauce.
In Conclusion
This garlic butter steak bites recipe can easily become your favorite way to make a nice steak meal for your next special occasions, such as Valentine's Day or Mother's Day. Lastly, make sure you add a delicious side to this meal. I love zucchini noodles. Well, until next time, folks.
Enjoyed this easy dinner? You should check out my chili potatoes recipe.
2

pounds

Sirloin Steak

Chopped into bite-sized pieces

1

tablespoon

Worcestershire Sauce

1

tablespoon

Garlic Powder

1

tablespoon

Ground Black Pepper

1

teaspoon

Thyme

1

tablespoon

Montreal Steak Seasoning

Any steak seasoning of your preference, if Montreal isn't available.

1

tablespoon

Minced Garlic

1

tablespoon

Butter

1

tablespoon

Olive Oil
Preheat your pan to medium-high

Chop your steak into bite-size pieces. Add them to a bowl or ziplock bag.

Add your seasonings, 1 teaspoon of minced garlic, and Worcestershire sauce to the bowl of steak. You can let this marinate for up to 12 hours in the fridge, or skip this step.

1 tablespoon Worcestershire Sauce,

1 tablespoon Garlic Powder,

1 tablespoon Ground Black Pepper,

1 teaspoon Thyme,

1 tablespoon Montreal Steak Seasoning,

1 tablespoon Minced Garlic

Next, add your butter, olive oil, and minced garlic to the skillet.

1 tablespoon Butter,

1 tablespoon Olive Oil,

1 tablespoon Minced Garlic

Once the butter begins to melt add in your steak.

Allow to cook until browned. Once they have turned brown, carefully drain the liquid off the steak bites into a bowl. Making sure to leave the steak bites in the pan

Place the pan back onto the stove and allow the steak bites to sear until done or they have reached 140 degrees Internally. Optional: Add your favorite sauce or enjoy it with leftover steak bites sauce.
Calories:
378
kcal
|
Carbohydrates:
5
g
|
Protein:
51
g
|
Fat:
16
g
|
Saturated Fat:
5
g
|
Cholesterol:
138
mg
|
Sodium:
173
mg
|
Potassium:
866
mg
|
Fiber:
1
g
|
Sugar:
1
g
|
Vitamin A:
64
IU
|
Vitamin C:
2
mg
|
Calcium:
93
mg
|
Iron:
5
mg
Last Updated on November 1, 2023 by Ronalyn Alston | Published: October 17, 2023