Creamy shrimp and lobster alfredo are my go-to, quick, and delicious meals for my family.  This is also a great meal if you're craving seafood!! If you love Red lobster but don't love the prices or the wait. Don't worry my friends because I've got you covered.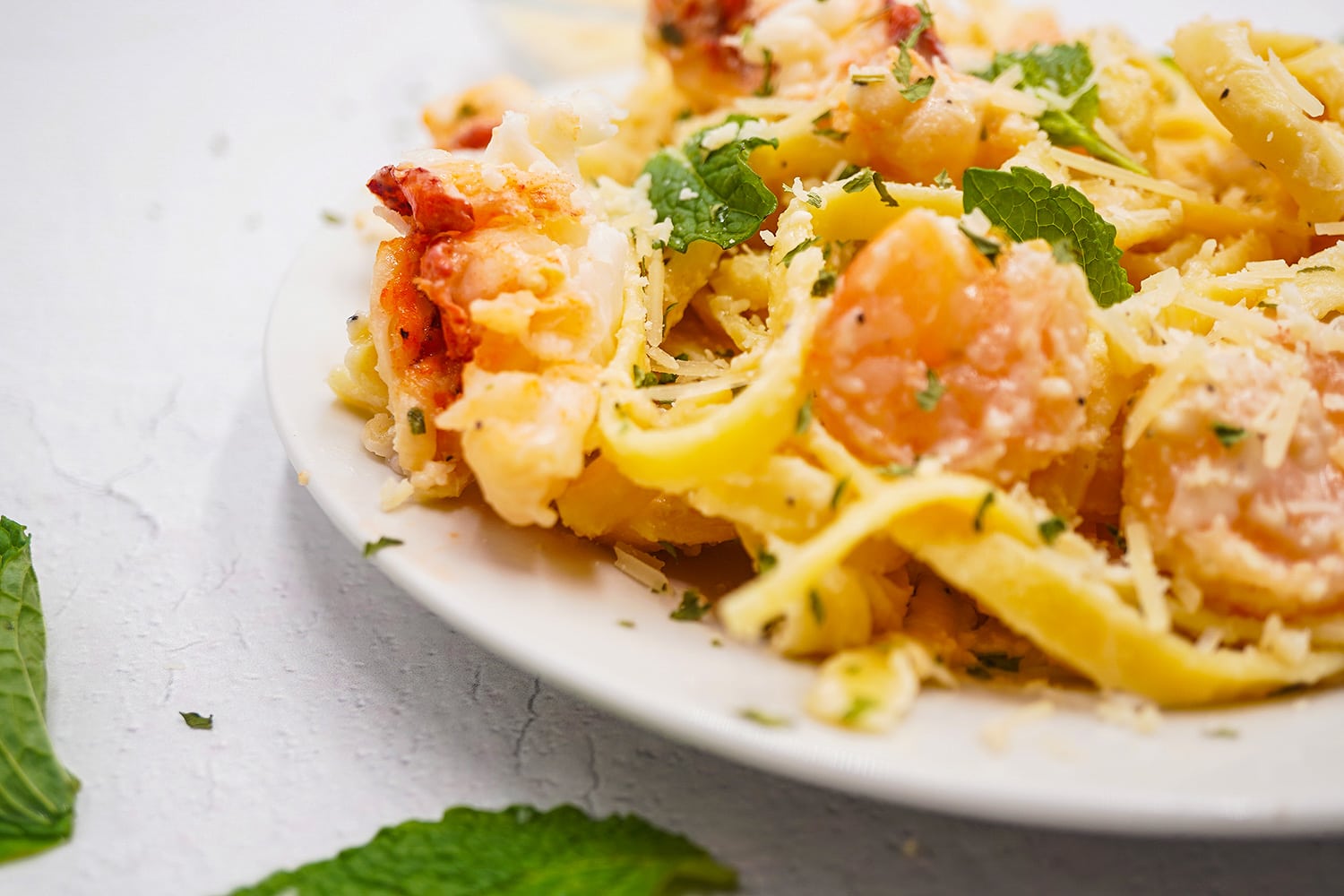 Shrimp and lobster Alfredo
This shrimp and lobster alfredo are the perfect combination for shrimp and lobster lovers. It's just the right amount of fettuccine noodles, alfredo sauce, shrimp, and lobster.   I got hungry just by writing that sentence. LOL.  I fell in love with shrimp alfredo during my first visit to Olive Garden. The creaminess of the sauce paired with the sautéed shrimp was delicious! When I was in college, this was my meal of choice on the weekend. I ordered that meal so much I decided to try and make the recipe at home by myself.
What are the ingredients to this lobster alfredo?
Shrimp-I purchased a fresh pound of already cleaned, thawed, and, deveined shrimp but you can also use frozen shrimp as well.

Lobster Tails- Small lobster tails will be absolutely fine in this recipe. You can also purchase the bigger lobster tails if you wish to have more meat.

Heavy Whipping Cream- The cream helps in making the Alfredo sauce. It's a pretty simple and easy process that will be ready in minutes.
Seasonings-I used a mixture of seasonings in this recipe starting with the basics of salt and pepper just to name a few. You can always add more seasoning or use less than the recipe recommends.
Fettuccine- The recipe isn't complete without the fettuccine pasta. Don't use spaghetti pasta for this recipe. Yes, they are both pasta but spaghetti pasta doesn't absorb Alfredo sauce well.

How to cook the shrimp and lobster?
This recipe can be prepared fairly quickly. The steps are straightforward. If you have followed the directions thoroughly. You should end up with some delicious pasta.
Step 1. Clean and devein your shrimp. Next, remove the meat from the shell of the lobster tails.

Step 2. To a medium-high stove add in your butter and begin to sauté your seasoned shrimp and lobster until done. This should be around 8 minutes.
Step 3. Remove the shrimp and lobster from the pot and add in butter. Along with minced garlic. Once melted add in your milk and mozzarella cheese and seasonings.

Step 4. Stir and turn to medium-low to simmer for 3 to 4 minutes.
Step 5. Start assembling your pasta. Add fettuccine noodles, next add some lobster and shrimp, along with Alfredo sauce.
Step 6: Top with Parmesan cheese and enjoy!
What kind of shrimp to buy?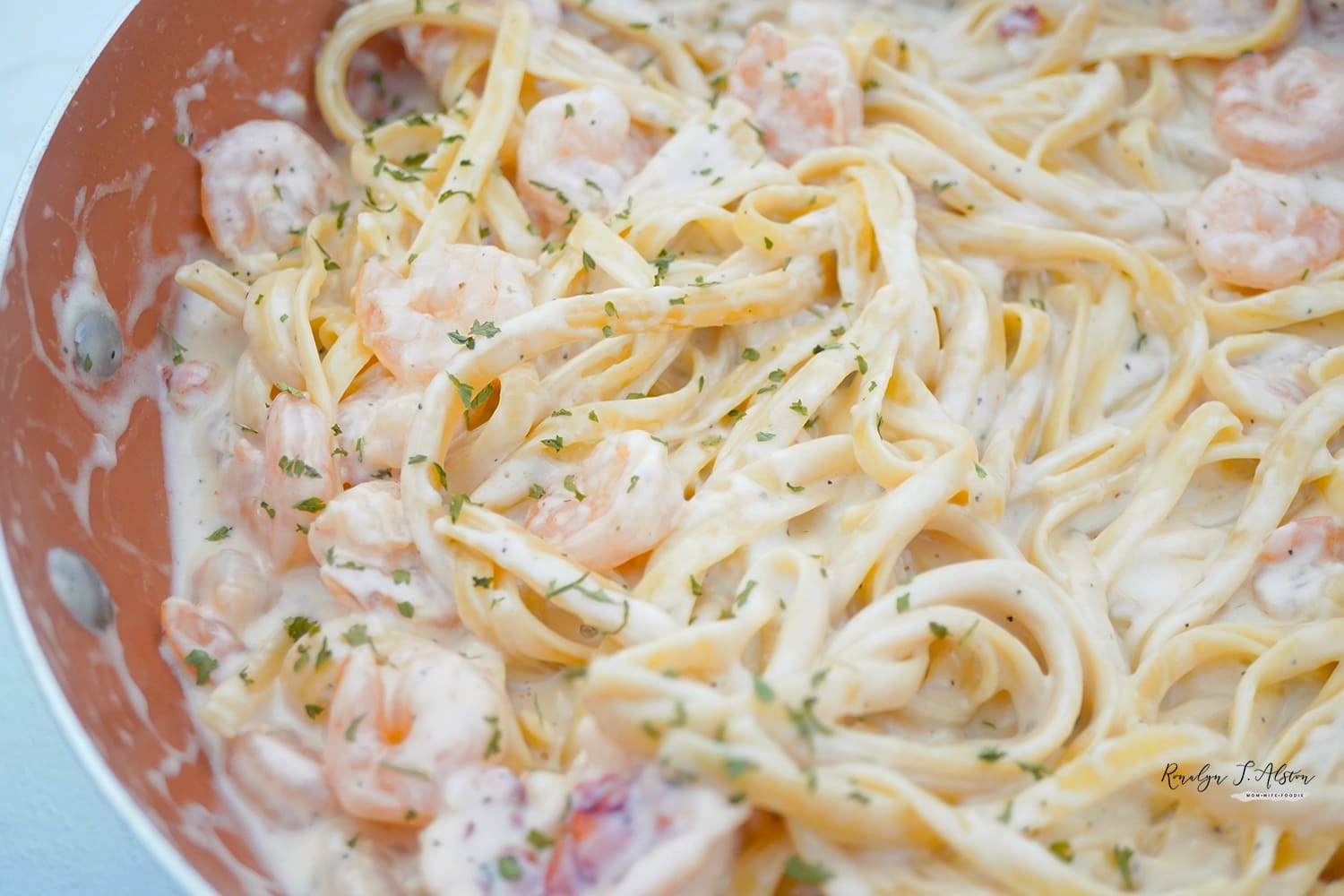 Do you need a fresh lobster tails?
Not at all. I used about 3 small frozen lobster tails. The lobster meat taste is so pronounced when you sauté it. I used 3 lobster tails, but you will only need about 2 small lobster tails chopped into small pieces. Feel free to add more or use fewer lobster tails.
Steps to cooking shrimp and lobster alfredo?
This is literally one of the easiest recipes I have ever made. You just need to boil your noodles in a pot with salt and butter until al dente. Drain the noodles and set them to the side until later. I sautéed my shrimp and lobster on the stovetop in butter that was seasoned with salt, pepper, and minced garlic. Once the lobster and shrimp are browned, remove from the pan and set to the side.
Steps to making Alfredo sauce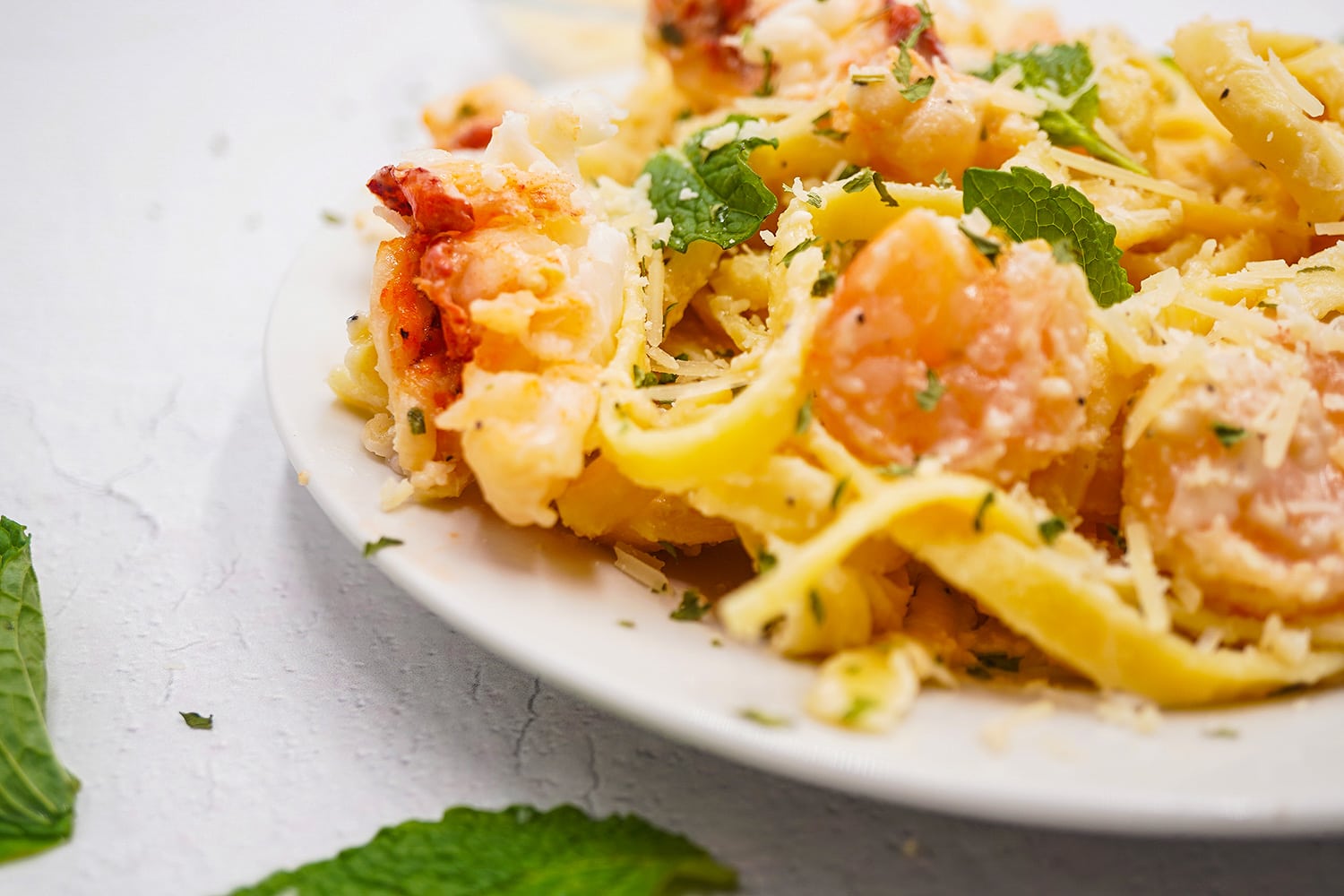 In the pan you sautéed the shrimp and lobster (to capture those flavors) on medium low stir in butter, minced garlic, flour, heavy whipping cream and milk. Add in Parmesan cheese along with salt and pepper. Stir and bring to a boil. Then add back in shrimp, lobster, and noodles. Stir until thoroughly combined.
Sprinkle parsley and parmesan cheese over the top and enjoy with my friends.
If you enjoyed this recipe then you will definitely enjoy my easy oven baked lobster tails
16

Ounce

Fettuccine pasta(uncooked)

12

Ounce

Peeled deveined shrimp(uncooked)

2-4

Lobster Tails

Depending on how much meat you would like

1

tablespoon

Salt

To your liking

1

tablespoon

Pepper

To your liking

1

tablespoon

Garlic Powder

To your liking

2

tablespoon

Minced garlic

To your liking

2

tablespoon

Parsley

To your liking

1

Cup

Parmeasan cheese

3

tablespoon

All-Purpose flour

6

tablespoon

Butter

1 ½

Cup

Milk

1 ½

Cup

Heavy Whipping Cream
Fettuccine pasta
Boil your pasta in a pot with salt and butter until al dente

Drain the pasta , and set to the side
Shrimp and Lobster
Turn stove to medium-low then add in butter

Once butter has melt, add in shrimp and lobster

Add seasonings(salt, pepper, and garlic) To your liking

Continue to flip the shrimp and lobster until both sides are brown

Take out the pan and set to the side
Alfredo sauce
In the same pan the shrimp and lobster came out of add, in butter

Once butter has melted , add in minced garlic

Slowly stir in the whole milk and the heavy whipping cream

Once the mixture begins to heat up add in the parmeasan

Add back in you pasta, then shrimp and lobster
Last Updated on August 17, 2023 by Ronalyn Alston | Published: September 18, 2020