This taco pizza is filled with a ton of delicious flavors. Pizza Night/ Taco Tuesdays just got a little bit different huh? The taco sauce is already made. Yep, pizza sauce is straight out of the jar for those busy folks out there! This is one easy pizza taco recipe made with flour tortillas that you will adore. Well, let's get into this delicious homemade taco pizza, or as my kids like to call it Taco Bell Mexican pizza!!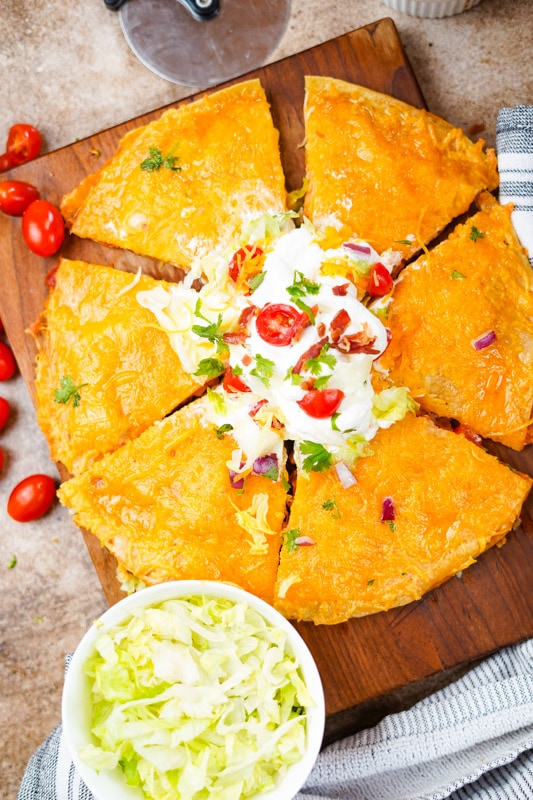 What Is Taco Pizza?
Taco pizza is a recipe made with store-bought pizza dough, salsa, or even flour tortillas. This taco pizza recipe is made to be on the easier side. No long time wait. It's made with ingredients like chicken, cheddar cheese, garlic powder, and soft taco shells. The thing I love about taco pizza is that you can add to or take away from this recipe. You can use any of your favorite taco toppings! It's completed your own preference.
Jump to:
Why You Should Make This Taco Pizza?
Grocery Store- straight-to-the-point grocery list. All of the ingredients can be found at your local grocery store.
Easy As 123- Set your watch for about 30 minutes and I can almost guarantee you that this great recipe will be on the tabletop in no time. 😀
No Homemade Pizza Dough- The one thing you will love about this recipe is that you won't need to wait for the yeast to rise. This easy recipe calls for corn tortillas or flour tortillas!
Taco Night- If you want to make things a little fun and love simple ingredients. Create a taco bar and make this recipe with your family and friends.
Grocery Store List
Tortillas-to make this easy pizza taco pizza recipe use flour or corn tortillas. It's your preference. The sizing should be the medium size ones.
Chicken Thighs-I used chicken breast in this taco pizza recipe but you should go for chicken thighs when you recreate this recipe. The chicken breast tends to get really dry at times and is tough to consume.
Shredded Cheese- The type of cheese that you purchase can be Mexican shredded cheese or sharp shredded cheese.
Corn-Use whole corn with the juice drained. This will bring in a ton of crunchiness and extra flavor.
Bacon-This will give your pizza taco recipe a next-level taste and make this recipe into a somewhat of a Taco Bell version.
Taco Seasoning- this delicious pizza is almost like the copied recipe of homemade Mexican pizza! Use store-bought taco seasoning. I used mild.
Salsa- you can use pizza sauce or jarred salsa. This will bring all of the flavors to life.
Butter/Olive oil- this will help to sear your chicken up just right!
The full Printable recipe can be found below.
How To Make Taco Pizza?
1. Preheat your oven to 400° degrees f. Next, to a medium heated skillet add in your olive oil along with seasoned/chopped chicken(salt, garlic, mild taco seasoning & pepper)  and allow to cook for 8 to 10 minutes, ensuring to stir during.
2. Once the chicken is cooked, add to a bowl along with, tomatoes, corn, bacon, red onion, and mix.
3. Lay a flour tortilla onto a clean surface, add 1 tablespoons layer of salsa. Next, add your shredded cheese along with the chicken mixture to the tortilla.
4. Add another flour tortilla over the top along with more shredded cheese over the top of the tortilla. At this point, you can use your hands to flatten things out. Repeat until all ingredients are used. Place the prepared pizza tacos on a baking sheet and transfer them to the preheated oven.
6. Bake for about 10-12 minutes, or until the tortillas are golden brown and the cheese is melted and bubbly. Once cooked(golden brown), remove the pizza tacos from the oven and allow them to cool slightly before serving.
7. Garnish your easy taco pizza recipe with additional cilantro or any other desired toppings.
Variations
Pico de gallo- If this is your first time making this taco pizza and you are looking to make this recipe even more amazing simply add some pico de Gallo on the inside or outside!
Mini Pizza Tacos- Cut the pizza taco into even smaller pieces and serve the next day. They will be like mini pizza tacos.
Black Beans- This is a great way to spruce up your recipe by adding in beans. They give the recipe a ton of texture and flavor! You can also add in things like homemade refried beans or refried pinto beans.
Green Onions- Top with onions of your choice to add a lot more of a robust flavor.
Meat Lovers Pizza Tacos- If you are a lover of meat add in all the meat you want. Bacon, Italian sausage pork, ground beef mixture, and turkey meat. It's completely your preference.
Substitutions
Ground Turkey- if you aren't a fan of the chicken in this recipe then you can add turkey meat in the place of the chicken. This will definitely ensure that you are still getting in all of that needed protein.
Crescent Roll Dough- if you have picky eaters then instead of using the tortillas you can use crescent roll dough. Just be mindful of how much of the mixture you are placing into the dough.
Store-Bought Pizza Dough- if you're not really feeling the tortillas then you can use pizza dough and spread the meat mixture over the top and place in a preheated oven of 400 degrees until browned.
Additional Ideas For any of Your Favorite Toppings
You can go bananas with this delicious taco pizza by adding toppings like mozzarella cheese, enchilada sauce, a dollop of sour cream, and black olives!
Storage For Leftover Taco Meat
You will want to store your taco pizza in an airtight container so that the refrigerator doesn't spoil all of the goodness.
In Conclusion
In conclusion, taco pizza is an easy meal that the whole family will love. This recipe will definitely become one of your favorite foods!
4

Large Organic Flour Tortillas

2

Cups

Chicken

Cooked, shredded or diced

1

Cup

Bacon

Cooked and diced

1

Tablespoons

Olive Oil

1

Tablespoons

Salsa

1

Can Corn

Drained

1

Cup

Grape Tomatoes

Sliced in half's

2

Cups

Cheddar cheese

shredded

¼

cup

Red Onion

diced

Salt and Pepper

to taste

1

Tablespoons

Garlic Powder

Mild Taco Seasoning

your preference

1

Teaspoon

Italian seasoning
Toppings Ideas
Black Olives

Fresh Cilantro

Sour Cream

Shredded Lettuce
1.Preheat your oven to 400°F (200°C).

To a medium heated skillet add in your olive oil along with seasoned/chopped chicken(salt, mild taco seasoning, garlic powder & pepper) and allow to cook for 8 to 10 minutes, ensuring to stir during.

2 Cups Chicken,

1 Tablespoons Olive Oil,

Salt and Pepper,

Mild Taco Seasoning,

1 Teaspoon Italian seasoning,

1 Tablespoons Garlic Powder

Once chicken is cooked, add to a bowl along with, tomatoes, corn, bacon, red onion, and mix.

1 Cup Bacon,

1 Can Corn,

1 Cup Grape Tomatoes,

¼ cup Red Onion

Lay a flour tortillas onto a clean surface, add 1 tablespoons layer of salsa

4 Large Organic Flour Tortillas,

1 Tablespoons Salsa

Next, add your shredded cheese along with the chicken mixture to the tortilla.

Add another flour tortilla over the top along with more shredded cheese over the top of the tortilla. At this point you can use your hands to flatten things out. Repeat until all ingredients are used.

Place the prepared pizza tacos on a baking sheet and transfer them to the preheated oven.

Bake for about 10-12 minutes, or until the tortillas are golden brown and the cheese is melted and bubbly.

Once cooked, remove the pizza tacos from the oven and allow them to cool slightly before serving.

Garnish with additional cilantro or any other desired toppings.

Black Olives,

Fresh Cilantro,

Sour Cream,

Shredded Lettuce
Last Updated on August 20, 2023 by Ronalyn Alston | Published: August 17, 2023