Southern chicken and rice. Also known as South Carolina chicken bog! This recipe is the perfect definition of a hearty Southern meal. The chicken and sausages in this recipe are seared and seasoned up, then stirred into a delicious rice bath. You will be left with some delicious fluffy southern chicken and rice!
What is southern chicken and rice?
I first want to start off by saying that this dish has many names in the south. From perlo rice to chicken bog. This southern cuisine has chicken, onions, rice, and sausages all simmered into one pot. This is the ultimate comfort food. This is an old-fashioned southern Chicken and rice meal that you will enjoy.
Jump to:
Ingredients
Rice- I would use rice that isn't already cooked for the best results.
Sausages- I used Hillshire farm smoked sausages, but you are welcome to use your favorite sausages.
Chicken- Chicken breast is my choice of chicken. The reason is that it has no bones and can be seared and separated easily.
Seasonings- I used a mixture of seasoning but not a ton. Garlic powder, salt, pepper, and poultry seasoning. That is all you will need. You can add additional seasonings like onion powder, but the chopped onions should fulfill that.
Onions- sweet onions are my choice of onions in this southern chicken and rice recipe. The sweet onions give it just the right flavor, and the texture compliments the rice.
Chicken Broth- I pretty much like to call this a liquid flavor. This helps to lock in all that flavor once the rice, chicken, and sausages are simmered down.
**See the recipe card below for full instructions**
How to make southern chicken and rice
This southern chicken and rice, also known as perlo rice or chicken bog, is easy to make. You will want to make sure you have gathered all your ingredients. Gathering all your ingredients will ensure you are ready to make the perfect southern chicken and rice recipe.
Season your chicken making sure to rub in the seasonings.
Place your pot on the stove(medium-high temperature).
Add in your butter. Once the butter melts down, add in your chicken and occasionally stir until your chicken has become slightly brown.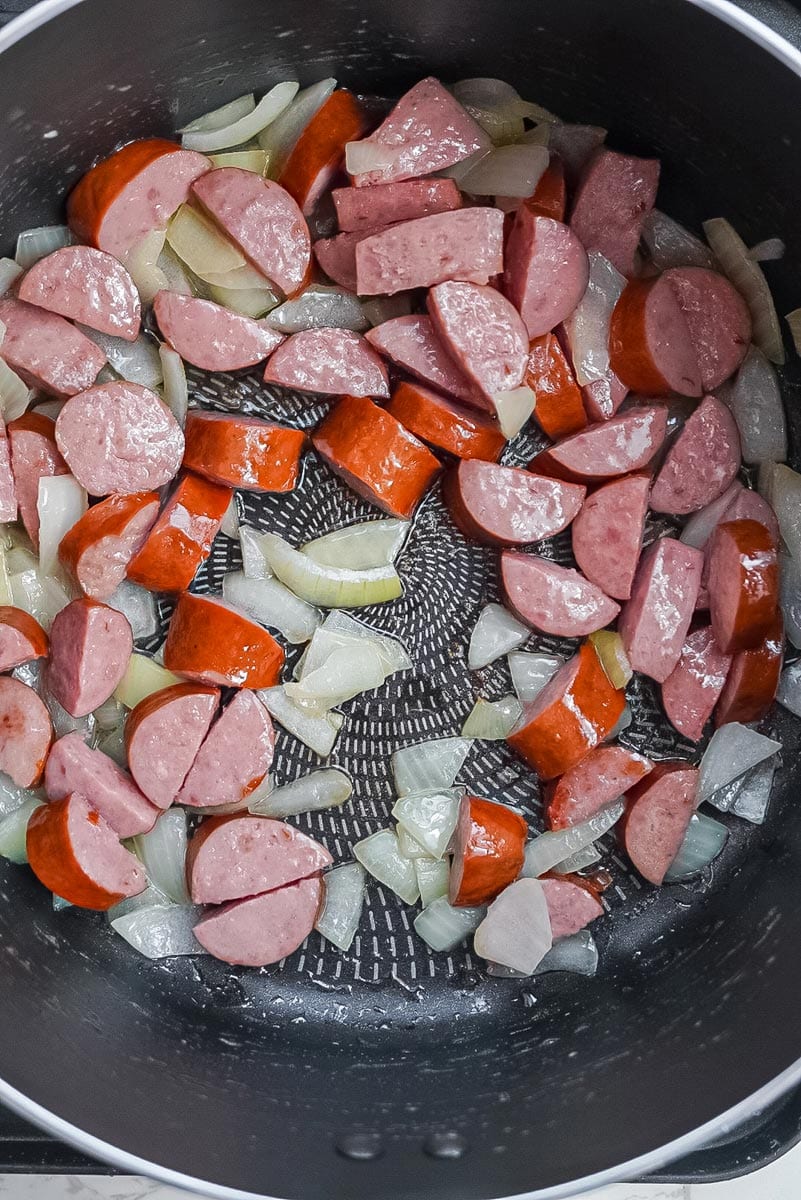 Add in your onions and sausages. Allow them to cook for 8 minutes. Stirring occasionally
Next, add in your chicken broth along with rice and stir. Place a top on your pot.
Turn your stove to medium-low and allow to simmer for 20 minutes or until no water is covering the rice.
Variations
You can remove the pork sausage from this recipe and use turkey sausages, or you could take the sausages and chicken out of this recipe completely. You would just need to season your rice to taste.
Equipment
For this recipe, I made sure to use a deep pot. I did this because the rice would swell in the pot and rice. You want to ensure you use a big enough pot to fit in your chicken and sausages. A 5-quart stockpot or any deep pot you may have would be fine.
Storage
You need to use an airtight container to store this chicken and rice meal. I must add that this is also a good high-protein meal for meal prepping, so you could always place them in the meal prep container as well. If they are airtight. I also tried placing this meal in a ziplock bag, and it's safe to say it stores well in that as well.
Reheating
Reheating this chicken and rice is quite easy. Place the rice in a microwave-safe bowl. Next, splash some water over the top of the meal. Lastly, place in the oven for 1 minute or until it reaches your desired temperature.
Common Questions
What goes well with southern chicken and rice?
The good news about this one-pot meal is that you don't need a side with this meal. It has chicken, sausages, rice, and onions all in one pot, but if you would like a side, then you should try my green beans with this meal. Also, check out my one-pot chicken and rice.
What is the difference between a chicken bog and perlo?
It's not a major difference between perlo rice and chicken bog. Both is them pretty much have the same steps for cooking. Perlo rice uses chicken broth, and so does chicken bog. So, there really isn't a major difference between them at all. Just the name, I would say.
Can I make this southern chicken and rice recipe in a crockpot?
Yes, slow-cooker chicken and rice are a thing, and it's quite easy to make. You will need to pretty much throw all the ingredients into the crockpot and allow it to slow cook.
More Chicken Recipes
Southern Chicken without buttermilk
3

Pieces

Chicken Breast

chopped into bitesized pieces

1

Pack Smoked Sausages

chopped into bitesized pieces

1

Onion

chopped into bitesized pieces

4

Tablespoon

Butter

Salted

1 ½

Cups

White Rice

long grain

3

Cups

Chicken Broth

Salt

To Taste

Pepper

To Taste

Garlic Powder

To Taste
Cut your chicken, onion, and sausages into bitesized pieces.

3 Pieces Chicken Breast,

1 Onion,

1 Pack Smoked Sausages

Season your chicken making sure to rub in the seasonings.

Pepper,

Garlic Powder,

Salt

Place your pot on the stove(medium-high temperature).

Add in your butter.

Once the butter melts down, add in your chicken.

Occasionally stir until your chicken has become slightly brown.

Remove the chicken from the pot and sit to the side.

Add in your onions and sausages. Allow them to cook for 8 minutes. Stirring occasionally

Next, add your chicken back in, along with the chicken broth and rice.

Stir well, then turn your stove to medium-low. Place a top on your pot and allow to simmer for 20 minutes or until there is no water covering the rice.

3 Cups Chicken Broth,

1 ½ Cups White Rice
Serving:
1
g
|
Calories:
1473
kcal
|
Carbohydrates:
253
g
|
Protein:
39
g
|
Fat:
34
g
|
Saturated Fat:
4
g
|
Polyunsaturated Fat:
1
g
|
Monounsaturated Fat:
1
g
|
Cholesterol:
16
mg
|
Sodium:
2639
mg
|
Potassium:
664
mg
|
Fiber:
5
g
|
Sugar:
8
g
|
Vitamin A:
50
IU
|
Vitamin C:
10
mg
|
Calcium:
209
mg
|
Iron:
6
mg
Last Updated on October 31, 2022 by Ronalyn Alston | Published: October 31, 2022