Turkey Burger In Air Fryer …. Do you love burgers but don't want all the guilt that comes with them? Don't worry I got you! Try making turkey burgers in the air fryer! Not only are they healthier than traditional beef burgers, but they're also easier to cook and make a great addition to your quick weeknight dinners. With this recipe, you'll get tender yet juicy patties every time. Plus, there's no need for flipping—just set it and forget it for a delicious meal in minutes!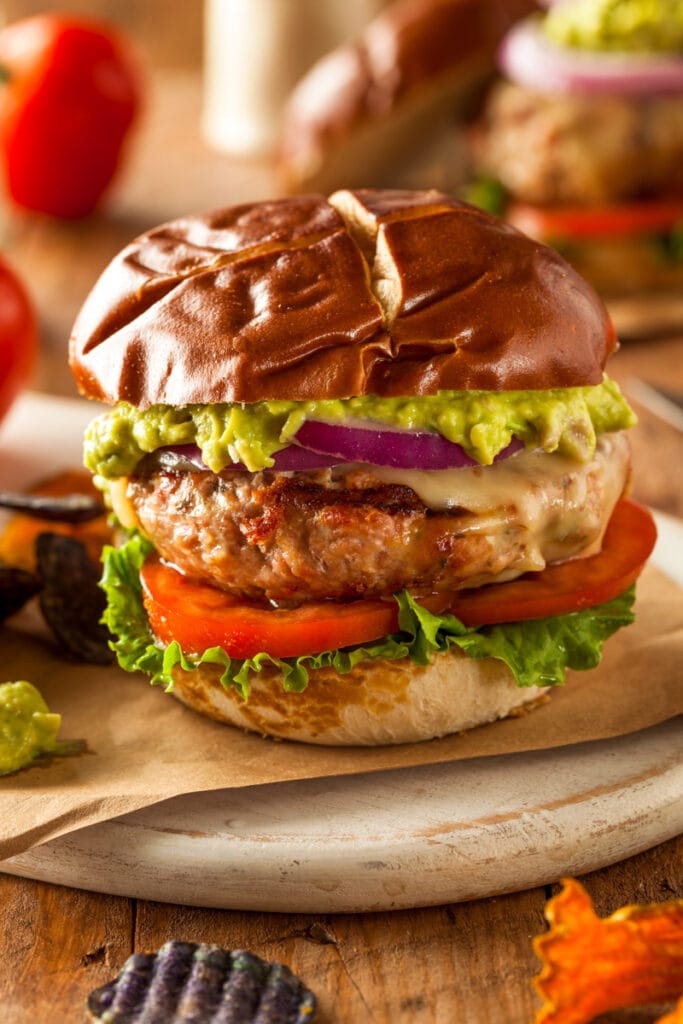 Air Fryer Turkey Burgers……Why You Should Make This
If you want to add a healthy twist to your classic burger, air fryer turkey burgers are the perfect option! Air frying offers that same delicious and juicy flavor reducing calories and fat. Additionally, air fryer turkey burgers cook much faster than traditional grilling – ideal when it's too hot outside! They also require little to no oil, making them lower in fat and a healthier option. So let go of the grill this summer and dive into something new; air fryer turkey burgers are sure to be a hit with your family and friends! It pairs well with my Cajun fries.
Ingredients For Air Fryer Turkey Burgers
All you need is lean ground turkey, shredded cheese, garlic powder, and salt. Combine all the ingredients in a bowl and mix with your hands until combined. Then form them into patties and place them in the air fryer. You'll have crispy stuffed turkey burgers to savor in no time. Enjoy them on a bun or as is – either way, they'll surely please your taste buds!
** Here is a list of the ingredients. A full list with the ingredients can be found below in**
Turkey Meat
Bacon
Worcestershire Sauce
Shredded Cheese
Seasonings
Red Onion
Hamburger Buns
**Sides (Optional)**
Slice Cheese
Tomatoes
Pickles
Ketchup
Lettuce
How To Make Turkey Burgers In Air Fryer
Why settle for bland turkey burgers when you can make delicious stuffed turkey patties in your air fryer? A turkey burger cooked in the air fryer is a great way to get the intense flavor and crunchy outside with a moist inside. Ready in minutes, you won't believe how scrumptious turkey burgers can be in an air fryer. The combination of seasonings and herbs gives the turkey patties an exceptional flavor that will have everyone at the table begging for more! Get creative with your turkey burger fixings and give your family flavorful, inventive meals every night of the week! Let me show you how to make these delicious stuffed turkey burgers!
Substitutions For Air Fryer Burger
Air fryers are the perfect device to make deliciously juicy burgers without all the added fat from frying. If you are interested in healthy substitutes for air fryer burgers, I have listed a couple below.
Lettuce- You can remove the bun from the burger and use lettuce to skim on those calories!
Bun- If gluten sensitive, choose a gluten-free bun in this recipe.
Variations
Kid Approved- You can add crushed Doritos or chips to the burger to give your kid more enthusiasm when eating.
Spicy– If you're looking for a spicy twist to your usual burger dish, why not try spicy air fryer turkey burgers? This combination of spicy ingredients and the power of an air fryer will have your mouth watering. You can add any spices you would like. Why not shake up your burger night with this spicy combination that will tantalize your taste buds and excite your palette?
Storage/Reheating
When storing an air fry turkey burger, it is essential to do so in an air-tight container. This will help keep the burger from drying out and any unwanted flavors from entering the burger. It is also recommended that you store the burger in a refrigerator or cooler as this will help to preserve the freshness.
 Reheating a turkey burger in an air fryer is an easy and efficient way to enjoy your favorite meal even days after cooking it. To do so, begin by preheating the air fryer to 400°F. Place the burger patty in the air fryer basket, making sure not to overcrowd it. Heat for about 5 minutes, and your burger should be good to go. You can also microwave for 1 minute or until the turkey burger reaches your desired temperature.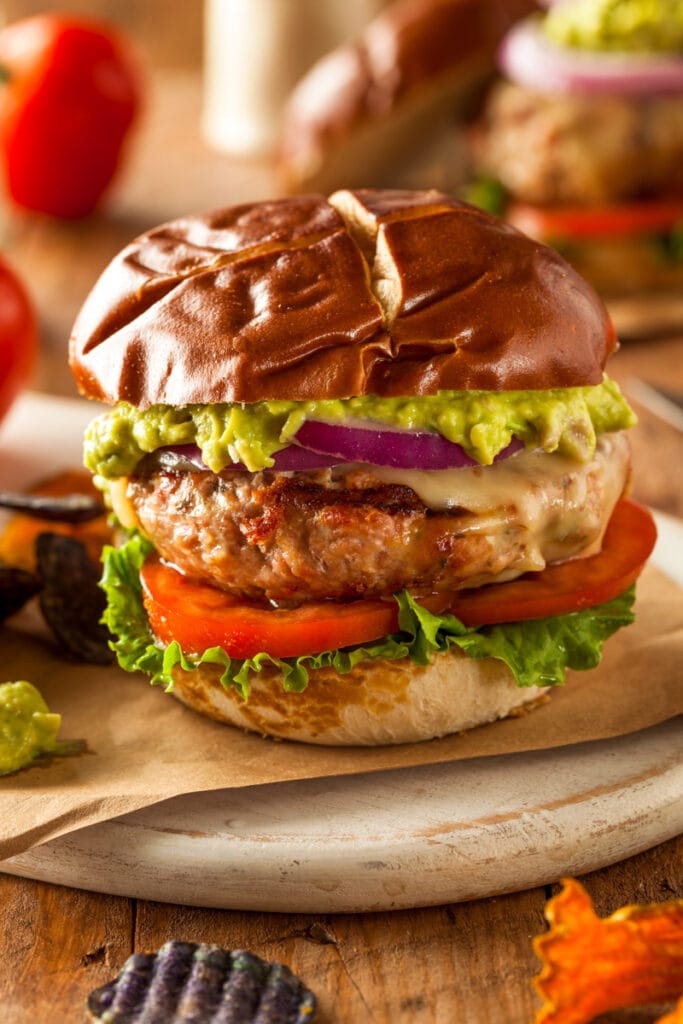 Equipment For Air Fryer Turkey Burger
All you need is 1 piece of equipment, and you can cook up perfectly juicy fresh turkey burgers quickly and easily. You will need an air fryer, fresh ground turkey patties, seasonings, buns, condiments, and whatever toppings you desire!
Tips
Don't overcook your air fry turkey burger! To ensure it is juicy and tender, you'll want to keep an eye on the cooking time. Generally, you should expect a turkey burger to take about 8 to 10 minutes in an air fryer at 400 degrees Fahrenheit. You may need to adjust the cooking time based on the thickness of your turkey patties.
When seasoning your air fry turkey burger, you'll want to use enough spices and herbs to provide the flavor you want. A good combination of spices would include garlic powder, onion powder, oregano, paprika, thyme, and black pepper. All of these can be mixed in a small bowl.
Enjoyed this recipe, then you should check out