Pickled pig's feet southern style. A southern cuisine that is filled with many flavors. Seasoned up, then tossed in a pot of piping hot water. Then the magic happens. We then soak them in a mason jar filled with a pot of liquid gold(pickled pigs feet juice). This recipe is super easy and extremely affordable.
What is pickled pig's feet?
Pickled pig's feet is a type of pork associated with Southern cuisine. Pig trotter, also known as the pettitoe, is just another name for pig's feet. Which originated in Germany. There are so many cuts of the pig, such as pork loin, pork butt, pickled pigs lip, pork belly, and pork shoulder, just to name a few. This dish is inspired by my neck bones recipe, another southern cuisine.
Jump to:
Ingredients For Pickled Pigs Feet
Pigs Feet
Red Wine Vinegar
White Vinegar
Water
Onion
Carrots (optional)
Celery
Salt
Pepper
Garlic
See the recipe card for quantities
How to cook pig's feet?
Pickled pig's feet are simple to make. The hardest part about this pig's feet recipe is boiling the pig's feet and waiting for them to sit in the refrigerator overnight. You will need to boil your meat until it becomes nice and tender. You will be boiling your meat in salt and vinegar water for a good amount of time. After you finish doing this, take them out of the pot and place them into a mason jar along with the vegetables and vinegar. Allow to sit for 24 hours or 2 days in the fridge. Which is what I recommend.
Substitutions
This pig's feet recipe can pretty much go for any part of the pig. You can use this recipe for the pig's lips or even go as far as pickled eggs. I use the pig's trotters for my recipe. I will put a list of things you can substitute below.
Pickled pig lips
Pig hocks
Pickled pig skin
Snout
Pickled pig cider
Pig ears
Pig knuckles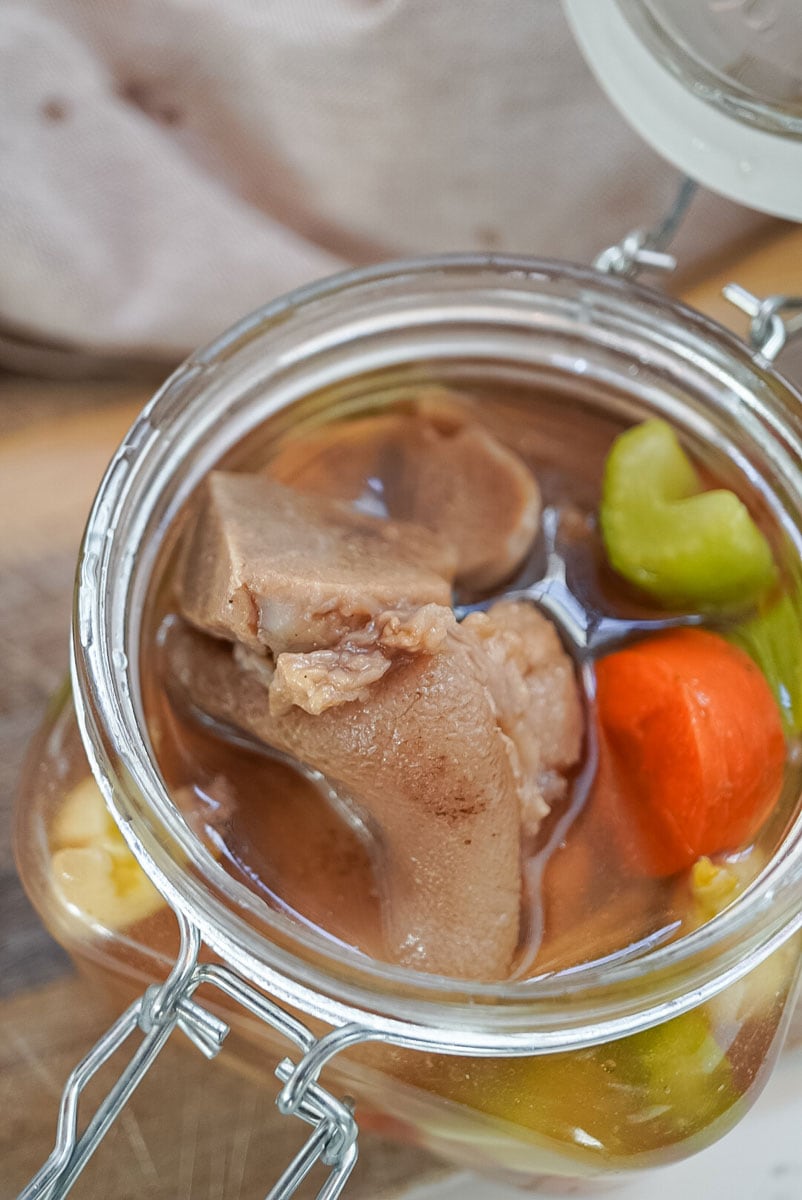 These are all the different things you can substitute the pig's feet in this recipe for. You can also make some pickled eggs as well.
Equipment
For these pickled pigs feet recipes. You will need a stockpot and a few mason jars, depending on how many pigs feet you are planning to make. If you don't have a stock pot, try to use a big pot to hold your pig feet.
Storage
I first want to start off by saying that pork feet can last in the fridge for up to 3 to 4 days, but when it comes to pig's feet in a jar, it can last in the refrigerator for months because the vinegar and salt in the dish will preserve it.
Tip
Make sure you clean all the hairs off the pig's feet.
You should remove the pig's toe
Clean thoroughly between the pig's feet
Variations/Substitutions
Spice up your pickling game with chili pepper variations.
Add a twist to your pickling recipe with bay leaves.
Mustard seeds to enhance the flavor of pickled pig feet.
Explore the use of coriander seeds in your pickling alternatives to pigs knuckles.
Infuse your pickling recipe with slices of ginger root instead of pigs feet.
Enhance the flavor of pickled pig feet by substituting with ham hock.
FAQ
Where can I buy pickled pigs feet?
Pig feet are meat that can be found year-round. Never have I had an issue with finding pig's feet. You can buy them already premade, but you can also make them from scratch. I almost always find it at my local store. I love to get Walmart pickled pig's feet. That's the first place I would encourage you to look. If you can't find them there, then you will want to visit your local meat market.
How do you clean pig's feet?
Pig's feet can be cleaned by running them under cool water, then taking a brush and scrubbing away the hair. You could also take a cooking torch and burn the hairs away. Next, you want to boil the pig feet to get the remaining hair off the bone.
How to eat pig's feet?
Pig feet can be cooked in many ways. You can boil them, bake them, or even slow-cook them. You can pretty much eat all parts except the toe.
What does pigs feet taste like?
Honestly, pig's feet have a salty/sour taste. When you bite into the pickled pig's feet, it has a rubber-like texture. Which still does taste amazing. Pig's feet are like no other taste, but that's not in a bad way.
Are pig's feet healthy to eat?
Trotters are definitely a healthy choice of good protein. There have also been some studies going that they are not so healthy.
In Conclusion
In conclusion, pickled pig feet offer a unique and flavorful experience for those willing to explore new culinary delights. By following a pig feet recipe, individuals can ensure they are incorporating the necessary daily values and nutrient information into their diet. The cooking process involves boiling the feet and then pouring a vinegar mixture over them, which infuses them with a tangy and savory flavor. For those on a medically restrictive or calorie-conscious diet, pickled pig feet can be enjoyed in moderation as part of a balanced meal plan.
Utilizing a separate bowl during the cooking process allows for easy preparation and cleanup. Cold water can be used to enhance the tenderness of the pig's feet, while medium-high heat ensures proper cooking. The use of quality ingredients, such as coriander seeds and slices of ginger root, adds depth and complexity to the flavor profile. It is important to use enough vinegar in the pickling process to achieve the desired taste. Additionally, excess fat can be reduced to create a healthier version of this delicacy. Whether enjoyed in a quart jar or for personal consumption, pickled pig feet are sure to tantalize the taste buds and leave a lasting impression.
Wash and clean all the hairs off of your pigs feet

To a stock pot add in water, salt, pepper, and vinegar

1 tablespoon Salt,

1 teaspoon Black Pepper,

1 Cup White Vinegar

Bring to a boil then add in pigs feet, let boil until tender. If you are able to cut the skin of the pick feet with a knife, they are done.

Pour the water off of the pigs feet and add them to a mason jar

To the mason jar add in the remaining ingredients, screw the top on then place in the refrigerator for 24 to 48 hours.

1 Onion,

2 Cups Red Wine Vinegar,

Water,

1 Cup Celery Chopped,

1 Cup Carrots
Serving:
1
g
|
Calories:
119
kcal
|
Carbohydrates:
13
g
|
Protein:
1
g
|
Fat:
0.2
g
|
Saturated Fat:
0.1
g
|
Polyunsaturated Fat:
0.1
g
|
Monounsaturated Fat:
0.02
g
|
Sodium:
3556
mg
|
Potassium:
395
mg
|
Fiber:
3
g
|
Sugar:
5
g
|
Vitamin A:
10698
IU
|
Vitamin C:
9
mg
|
Calcium:
62
mg
|
Iron:
2
mg
Last Updated on August 30, 2023 by Ronalyn Alston | Published: October 18, 2022