It's time to get excited! This cornbread chili bowl recipe is your meal if you crave something fun, exciting, comforting, and flavorful. This tasty treat combines great textures and flavors to satisfy everyone in your house, from grandparents who will love the comforting taste of dishes from their childhood. To busy moms on the go who need something hearty and delicious without too much effort. Get ready because it's time to create an amazing dining experience that won't soon be forgotten.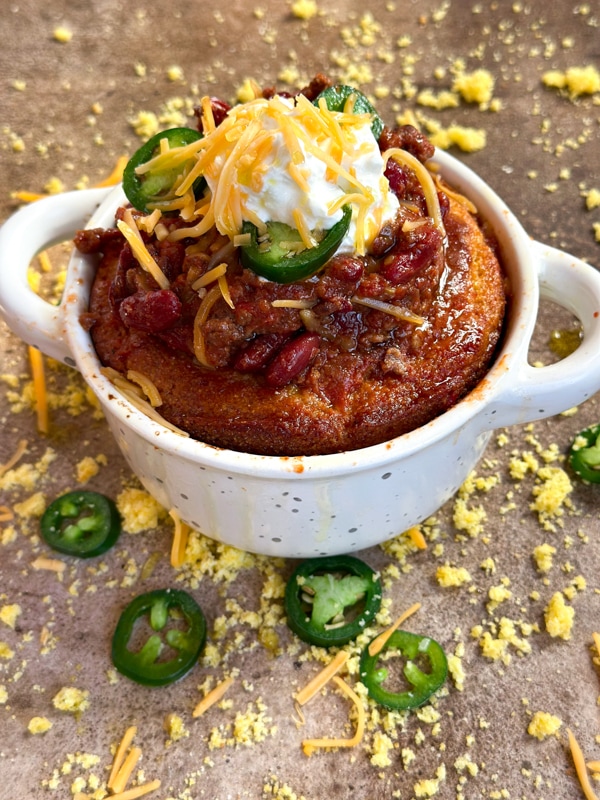 You Should Make
Okay, folks, if you want a delightful combination of a warm, fluffy cornbread crust embracing a robust, spicy chili. This heavenly dish combines the comforting texture of cornbread and traditional chili flavors, creating an experience that will excite your taste buds. Cornbread chili bowl! I love to pair this chili recipe with my honey cornbread. Here are a few more reasons why you should make this
I used simple ingredients to make this jiffy chili cornbread casserole.
Packs an impressive nutritional punch.
Loaded with protein from both beans and ground beef and fiber from various vegetables, the chili base part of this bowl will help keep you full for hours.
To top it off, the crunchy sweet flavor of our homemade honey cornbread adds a delightful twist that can't be found anywhere else.
Quick and easy to throw together. That alone has my attention. What about you all? Lol
Jump to:
Ingredients You Will Need
Full List Of Ingredients Below
There is nothing better than Cornbread Chili Bowls. The best thing about Cornbread Chili Bowls is that they are easy to make - only a few simple ingredients. The made-on-the-stove chili bowl will become your go-to meal on busy nights when you don't have time to spend in the kitchen. Give it a try tonight; you won't be disappointed!
Olive Oil
Ground beef
Minced Garlic
Onion
Seasonings- cumin, salt, pepper, and chili powder
Beef Broth
Diced Tomatoes
Tomato sauce
Kidney Beans
Honey
Sugar
Brown Sugar
Sour Cream
Shredded Cheese
Jalapeño
Cornbread Ingredients
I used the jiffy cornbread mix out of the box. You can use any other recipe you would like but with three little ones. I'm all about a quick and easy meal!
Jiffy Mix
Egg
Milk
How To Make
Can't you imagine diving into a warm, golden cornbread chili bowl on a chilly night, a spectacular blend of comforting flavors dancing on your taste buds, making you forget about the outside world? I know, but don't worry because I've got you covered. Below I will list all of the instructions. The full list of ingredients and instructions will be listed down below.
Variations
It's no secret that this homemade chili bowl recipe is easy, but another thing that I love about this recipe is its versatility. You can add or take away to this recipe anything that you would like. Here are a few examples down below.
Different Meats
You can easily substitute ground beef for ground turkey or even ground chicken in this recipe. You can also use something, like impossible meat, if you prefer.
Add or Take Away
You can add more ingredients to this recipe. I've seen others add pinto beans, black beans, and even pork and beans. How yummy, right!?
Equipment
There's an undeniable excitement as you gather your equipment for crafting the perfect chili bowl experience! Listen, for me, the anticipation starts to build as I get together my essential items to make this soul-warming, mouthwatering. Now, here is what you will need. A large, sturdy pot is a must, where all the incredible flavors will melt together and do a little dance for one another. LOL. A sharp knife will help make all the necessary chopping and cutting a breeze. Don't forget the wooden spoon or heat-resistant spatula; they'll become your trusted companions in stirring up this savory chili!
In Addition, measuring cups and spoons ensure that every ingredient is perfectly balanced, while a reliable can opener saves the day when it's time to incorporate those crucial canned ingredients. That's pretty much everything, folks.
Storage
Throw your chili into an airtight container, and you are ready. You can also store this chili cornbread bowl in a Ziplock bag. Don't worry the cornbread will mix in with the chili well, giving you an even more tasty meal!
In Conclusion
And there you have it - an amazing stovetop chili recipe guaranteed to be a hit for any occasion! Whether you followed my exact recipe or decided to make your variations, the possibilities are endless. If you try this, I'm sure you won't regret it. It's the perfect balance of mild and spicy, with lots of tasty flavors making an appearance throughout. It's like turning a simple side dish into a full meal! I guarantee you'll want to make it again and again - now that's a sign of a winning recipe in my book! So go ahead, get cooking this cornbread chili bowl recipe, and don't forget to show off your finished product in the comments below!
Don't forget to follow me social media @ronalyntaslton.com
Here are a few other recipes that you may enjoy.
Well, until next time, folks.
Follow the directions on the back of your jiffy cornbread box. Remove from the oven and set to the side.

Add olive oil, onions, garlic, and ground beef to a medium-high skillet.  Season your beef. Don't skip out on this step. Seasoning your meat while cooking allows for the maximum amount of flavor.   Allow the beef to brown. Drain your ground beef, then add it back into the skillet.

1 ½ Pounds 90% Ground Beef Ground beef,

1 Teaspoon Olive Oil,

1 Onion Chopped,

1 Teaspoons Cumin,

1 Teaspoons Salt,

1 Teaspoons Pepper,

1 Teaspoons Chili Powder,

1 Tablespoons Garlic Powder,

1 Tablespoon Minced Garlic

Add your beef broth, tomato sauce, kidney beans, diced tomatoes, and sugar. Mix well.

1 32 Ounce Box Beef Broth,

1 280z Can Dice tomatoes in can,

2 light or dark Can Kidney Beans,

1 Tablespoon Sugar or Brown Sugar,

1 15 oz Can Tomato sauce

Place a lid on and allow to cook on medium-low for 35 minutes.

Use a knife to carve a hole into the cornbread. Brush honey onto the cornbread. Pour chili into the cornbread hole. Crumble the remaining cornbread over the top.

If you like spicy, top it with sour cream, cheese, and jalapeño.

½ Jalapeño Chopped,

½ Cups Shredded Cheese,

Jalapeño,

2 Tablespoons Sour cream
Calories:
789
kcal
|
Carbohydrates:
9
g
|
Protein:
76
g
|
Fat:
48
g
|
Saturated Fat:
21
g
|
Polyunsaturated Fat:
2
g
|
Monounsaturated Fat:
19
g
|
Trans Fat:
2
g
|
Cholesterol:
256
mg
|
Sodium:
1602
mg
|
Potassium:
1233
mg
|
Fiber:
1
g
|
Sugar:
4
g
|
Vitamin A:
675
IU
|
Vitamin C:
0.3
mg
|
Calcium:
274
mg
|
Iron:
9
mg
Last Updated on November 10, 2023 by Ronalyn Alston | Published: March 20, 2023