The best air fryer Brussel sprouts? Sign me up, please! Perfectly roasted and topped with cranberries and bacon. These air fryer Brussel sprouts are the perfect low-calorie recipe, and did I mention how delicious these babies are?!?!!! What's not to love about these air fryer brussel sprouts with bacon?
Ingredients To Air Fryer Brussel Sprouts
Regarding the ingredients for these air fryers, brussel sprouts are pretty simple. Who doesn't love simple? Brussel sprouts are super delicious and very healthy for you. The ingredients for this recipe can be at pretty much any grocery store.
Brussel Sprouts- Choose Brussel sprouts whose leaves are tightly packed and bright green. Try to stay away from the ones that have yellowish-looking leaves are black spots on them. They aren't usually the best ones in taste.
Olive Oil- Helps coat these air fryer brussel sprouts and allows the seasonings to stick to the brussel sprouts a lot better.
Seasonings- Salt, pepper, and garlic powder. The seasonings I used all work together in adding a tremendous amount of flavor to these brussel sprouts.
Dried Cranberries- Brings a sweet taste to the dish and helps balance the strong taste of brussels.
Bacon- Flavor and crunchiness
Walnuts-Compliments the dish with the crunchiness that they bring.
Honey- Gives this recipe a sweet taste. After all, who doesn't love honey?
Health Benefits
There are many health benefits to brussel sprouts that you want to hear about.
Packed with immunity-building Vitamin C
Aids in fighting cancer such as lung, kidney, bladder, breast, prostate cancer
Powerful superfood
Reduces Inflammation
Brussel sprouts also may stave off high blood pressure, high cholesterol, and heart disease.
Best time of year for brussel sprouts
I eat them all year round, but I understand that there is also a peak season for brussels to be eaten so that they are fresher and better in taste. They should be eaten in the late fall to early winter.
Wash and clean
Brussels sprouts are so tasty, but they must be washed and cleaned before you can do anything with them. As mentioned above, you first want to make sure you choose them correctly from the grocery store. Remove all of the bad leaves( rotten and holes) Next, trim the ends, then cut the brussel sprouts in half and rinse them off. Now, you are ready to cook them!
How To Cook Brussel Sprouts?
I love to throw my vegetables in the air fryer and let them become caramelized and crispy. These air fryer brussel sprouts are so delicious and guilt-free. They are insanely low in calories and make a healthy, great side dish. You can use fresh brussel sprouts or frozen brussel sprouts in air fryer. It is completely up to you. Also, air fryer brussel sprouts aren't your only option for cooking.
You can also bake them in the oven, cook them on the stovetop, and even cook instant pot brussel sprouts. The first thing you want to do when making air fryer brussel sprouts is to make sure that you wash and clean them. Look for any rotten leaves and remove them. Next, cut your brussels down the middle and add them to a bowl. In addition, you want to drizzle them with olive oil, add in your seasonings, and mix well. Lastly, place them in your preheated air fryer to cook for 10 minutes, then top with your toppings.
Serve with
You can serve these sprouts with whatever your heart desires. I love to serve these sprouts with meat. You can also eat them alone. They taste just as good. Eating them with my honey bbq ribs or my air fryer wings is also a great option. They are so delicious either way.
How long do brussel sprouts last in the refrigerator?
Place your sprouts in an airtight container with a lid on them. You can also place your sprouts in a bowl and place saran wrap over the bowl. Poke a few holes in the top of the saran wrap. You can store them in the refrigerator for up to 5 days. If you store them in a ziplock bag, they can last up to a week. Of course, you will need to smell them first to ensure they don't smell awfully bad. If they smell really harsh, you should throw them away. They could possibly make you sick when eaten.
How to roast Brussel sprouts?
To roast any vegetable is so simple and fairly easy. The only thing you would really need to do is prep your vegetables beforehand.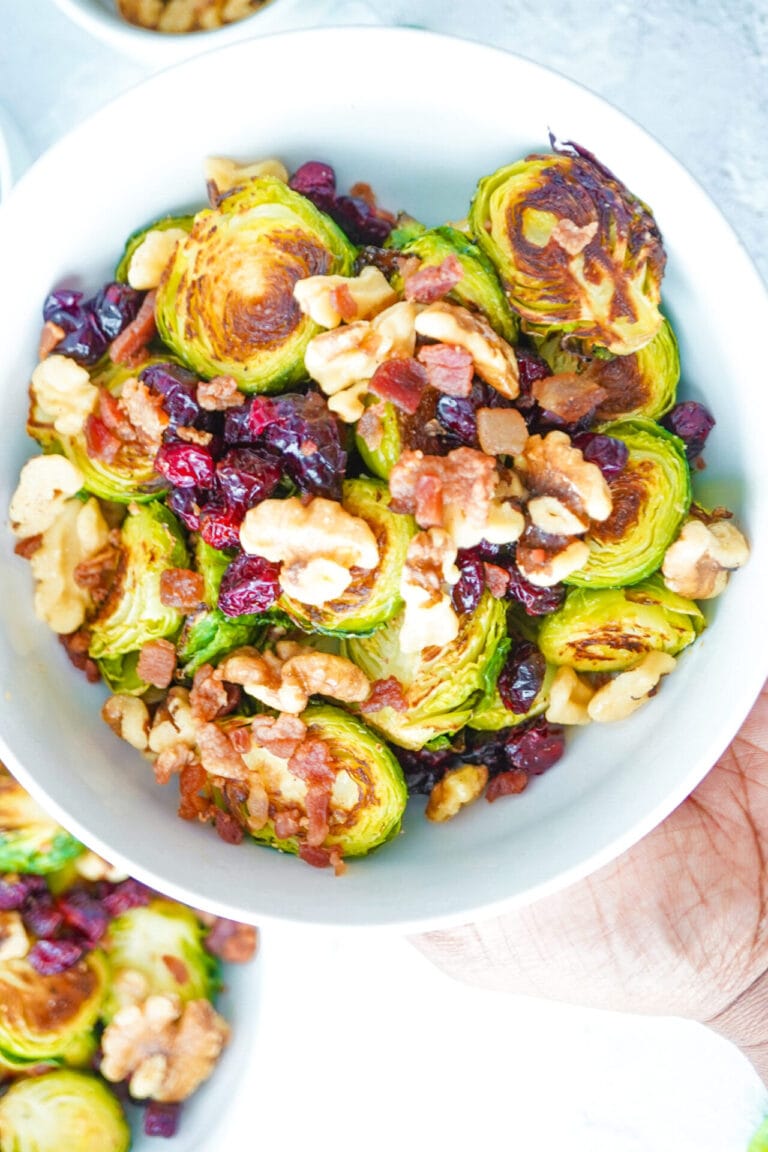 Steps to roasting sprouts?
So, I make sure I wash my vegetables thoroughly. Preheat the oven to 425 degrees. Then I place them onto a sheet pan with the flat side of the Brussel sprouts lying down. Now, drizzle olive oil over them. Next, I sprinkle Himalayan salt, pepper, and garlic powder over them. Place them into the oven and let bake for 30 minutes. Take them out and add your toppings!!
If you enjoyed this recipe, you should check out my roasted broccoli.
Enjoy
1

lb

Brussel sprouts

16 ounces

1

teaspoon

Olive oil

1

teaspoon

Black Pepper

1

teaspoon

Sea salt

kosher salt

1

teaspoon

Honey

Optional

2

Slices

Bacon

1

Cup

Dried cranberries

½

Cup

Walnuts
Preheat your air fryer to 400 degrees

Wash brussel sprouts thoroughly.

Take a knife and split sprout down the middle

Drizzle olive oil over your brussels sprouts, then add in your seasonings and mix well.

1 teaspoon Olive oil,

1 teaspoon Black Pepper,

1 teaspoon Sea salt

Add your sprouts into the air fryer face down. Making sure not to overcrowd the air fryer.

Remove from the air fryer and add your toppings

1 teaspoon Honey,

2 Slices Bacon,

1 Cup Dried cranberries,

½ Cup Walnuts
Serving:
1
Cup
|
Calories:
292
kcal
|
Carbohydrates:
16
g
|
Protein:
3
g
|
Fat:
26
g
|
Saturated Fat:
7
g
|
Cholesterol:
13
mg
|
Sodium:
1189
mg
|
Potassium:
118
mg
|
Fiber:
3
g
|
Sugar:
10
g
|
Vitamin A:
107
IU
|
Vitamin C:
12
mg
|
Calcium:
20
mg
|
Iron:
1
mg
Last Updated on September 29, 2022 by Ronalyn Alston | Published: January 20, 2022