Southern fried pork chops are a Southern culinary specialty. They're made from thin-sliced, high-quality pork loin, then coated in seasoned flour or cornmeal and deep fried until perfectly golden and delicious. Southern fried pork chops are always a hit with dinner guests or can be enjoyed at home by the family. Their crunchy exterior and juicy center pair wonderfully with sides like Southern collard greens, honey cornbread, Southern sweet potato pie, or chicken and rice. Southern fried pork chops make an exquisite Southern-style meal that is hard to beat!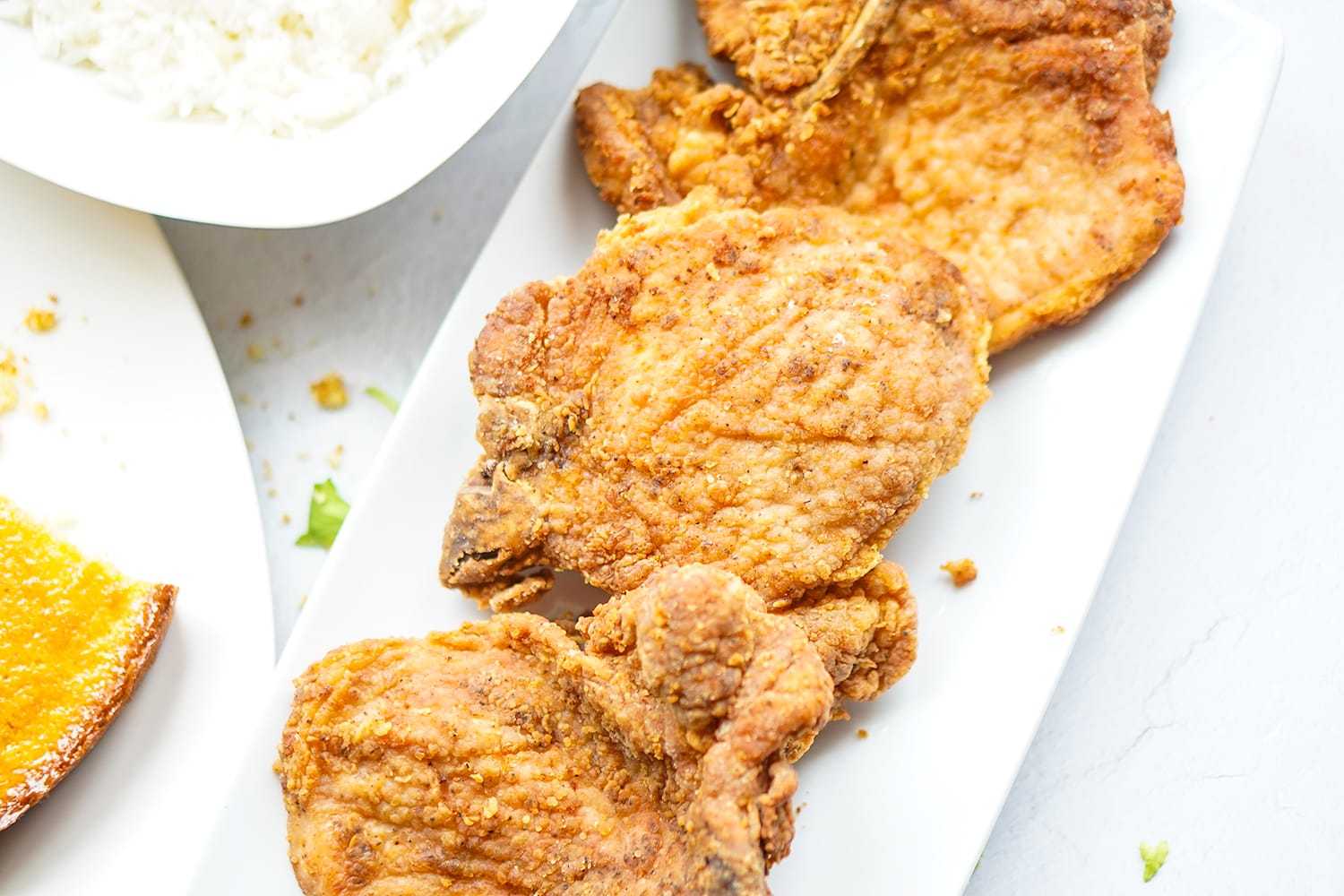 Why Should You Make These Fried Pork Chops?
Southern fried pork chops are a classic favorite among all Southern home cooks. They carry a delicious flavor profile and can also be cooked in various ways with endless possibilities for extra ingredients or spices. They are incredibly easy to make, require minimal ingredients, and can often be prepared in under 30 minutes. You can get creative when you make pork chops at home. You can customize the ingredients, adjust the time and temperature as needed, and even create or add extra toppings for added flavor and texture. Southern Fried Pork Chops are sure to please the entire family - so why not give them a try tonight?
Crunchy- Southern fried pork chops are delicious to prepare for any meal. The pork chops' crunchy exterior and juicy interior make them a tasty entree that is sure to satisfy. To get these delicious crunchy pork chops, start seasoning your meat with herbs and spices, then dip it into a beaten egg and milk mixture. Finally, dip the completed mixture into a flour or breadcrumb mix before deep frying until golden brown. Southern fried pork chops are delicious and incredibly easy to make, so why not try them today?
Make ahead- Southern fried pork chops are an old-fashioned classic that will never go out of style! Making them ahead of time can simplify your weeknight meal. By preparing your Fried Pork Chops ahead of time, you can reduce the cooking time needed. When dinnertime comes around, all that is left to do is heat up your Southern Fried Pork Chops in a preheated oven and serve. Make sure to use the highest quality ingredients to give this Southern classic the right flavor and texture. Your family or guests will be delighted with their savory Southern fried pork!
Easy To Pair- Southern fried pork chops are delicious and easy to pair. They have a flavorful and crunchy coating that goes well with many sides and sauces. Serve Southern fried pork chops alongside garlic mashed potatoes and my Southern green beans for a truly decadent experience.
Ingredients
Southern fried pork chops require few ingredients, but the taste is undeniable. The most basic approach is mixing flour, black pepper, and salt together to form a coating for the pork chops. Making the best double-breaded pork chops. Also, to give an added flavor and crunch, some recipes call for adding garlic powder, onion powder, and paprika to the flour mixture before cooking in oil. Well, let's stop all the talking. Let's get to the ingredients of my copycat Cracker Barrel fried pork chops.
Pork Chops
Seasoning Salt
Ground Black Pepper
Garlic Powder
Self-Rising Flour
Vegetable Oil
Salt and Pepper Pork Chops to your liking
How To Make?
Chops are a delicacy, often served as the main course of Southern dinners. The unique flavor comes from the process of dipping the boneless or bone-in pork chops into a pre-made Southern-style batter and then deep-frying until browned on the exterior and fully cooked and tender in the center.
Variations
Air-fried pork chop bites- Southern fried pork chops are a beloved Southern favorite, but they can be time-consuming and messy. Air-fried pork chop bites offer an easy and delicious way to enjoy Southern fried pork flavors without all the hassle. Air-frying provides a crunchy texture and flavor, plus it messes free and is much healthier than traditional Southern frying since it requires less oil! Serve these crowd-pleasing bites with dinner or as an appetizer – they're sure to tantalize your taste buds with southern-style goodness!
Fried Pork Chop Tacos-These tacos feature Southern-style fried pork chops, lettuce, tomatoes, and cheese; all served on a fresh corn tortilla. The Southern fried pork chops add a perfectly crunchy texture and savory flavor that complement the other ingredients in the tacos. Combining these flavors creates a unique Mexican-Southern fusion dish that highlights the best of both cuisines. It's no surprise that this flavorful Southern snack is becoming more popular in Southern homes and restaurants across the nation.
Storing Fried Pork Chops
Chops make a delicious meal perfect for any occasion, but proper storage techniques are necessary to ensure they stay fresh. The best way to store fried pork chops is to wrap them individually in paper or plastic and place them in an airtight container. This will help preserve maximum freshness and limit the risk of freezer burn. Additionally, storing the cooked pork chops in the refrigerator for no more than four days after cooking is essential. If planning on freezing them, They should be frozen within two hours of cooking and consumed within four months for optimum taste and safety.
Questions
How to fry pork chops without flour?
Frying pork chops without flour isn't tricky. You can actually air fry or oven-bake these bone-in pork chops to help reduce the calories in pork chops.
How To Bread Pork Chops without Eggs?
In addition, breading pork chops without eggs can be done with the use of flour. You don't necessarily need flour or milk to create a breading for any thick pork chops or thin.
How long are pork chops good in the refrigerator?
Pork Chops have long been a kitchen staple, but it's essential to understand how to store them properly. Cooked chops will keep in the refrigerator for up to three days if stored correctly. It is essential to ensure that the pork chops are fully wrapped in plastic or foil before being placed in the refrigerator so that they do not come into contact with any other food that could contaminate them. If you are unsure how long chops have been stored in your refrigerator, it is best to get rid of them.
Lastly, they can be served up with just about any Southern sides -think macaroni and cheese, sweet potato fries, collard greens, biscuits, and more - for a truly Southern experience! Just one bite will leave you wanting more of this Southern classic.
More Southern Recipes