So crunchy and delicious. Leaving your mouth watering and wanting more bone-in Southern fried pork chops! You want to snag you a good old Southern man or woman? Well, come on in child so I can give you this Southern tea!!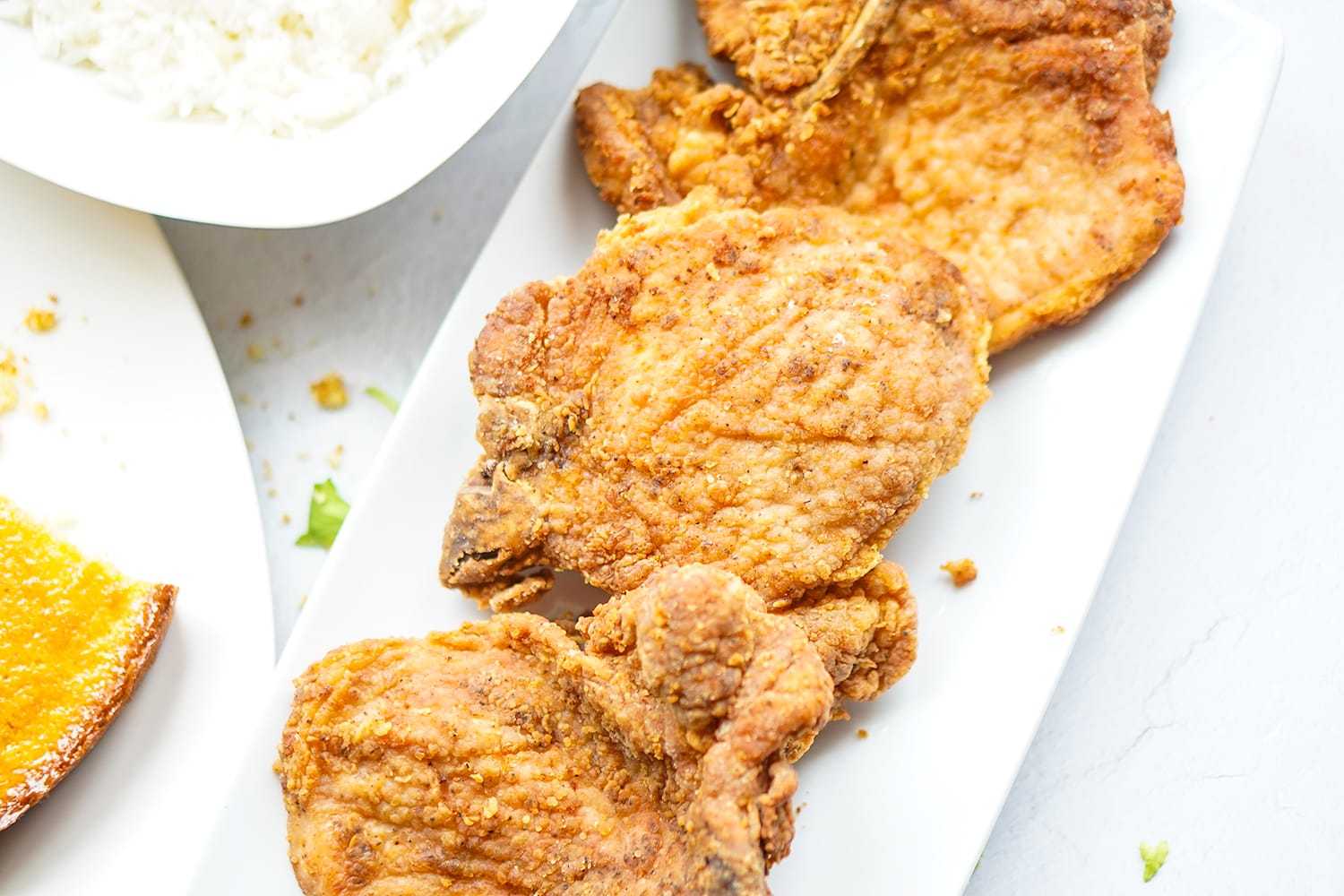 Deep fried pork chops
I think I've literally come into this world eating fried pork chops. No, I'm serious I have a strange obsession with fried pork chops. LOL, especially fried pork chops with gravy and rice. Yummy, I think that's what's for dinner tomorrow. Haha. Let's, just go ahead and make them together y'all!
How to prep bone in Southern fried pork chops
The first thing you will need to do is tenderize your pork chops. Pork chops have the tendency to become really tough and chewy. So, tenderizing the pork chops with a meat tenderizer will definitely help with that.
How to season pork chops?
The most important thing to remember is to season both sides of your meat with the same seasoning on each side. Once you have done that take your hand and massage the seasoning into the meat. This is another reason why tenderizing your pork chops can be so important. When you tenderize the pork chops it helps the seasoning get into the meat better.
What seasoning to use when cooking pork chops?
I never overdo it with a lot of different seasonings. I stick to the basic seasonings. Seasoning salt, pepper, and garlic powder. That's it! I sometimes add a sprinkle of salt.
Do you have to use milk when making fried pork chops?
No, you definitely don't have to use milk when making. My fried pork chop recipe only requires you to use flour, oil, and seasoning, and trust me. It is delicious that way. Less work, but great tasting food is always a plus!
Can you use boneless pork chops instead of bone-in?
Yes, you definitely can. I tend to go for bone-in, to catch more flavor from the pork chops bones.
What type of pork chops to buy?
I always go for the rib chop pork chops. They are simply the best to fry in my opinion. Don't go for the biggest pork chop you can find because sometimes those will fry on the outside faster than the inside. Leaving you with either burnt pork chops are raw pork chops on the inside. Go for medium-sized. Also, make sure they are red in color and not dark brown. Brown uncooked pork chops is a sign of them not being fresh.
How to make fried pork chops?
The first thing to do will be to season your pork chops as I mention in the passage above. Add your seasoning to both sides and work the seasoning in.
Place flour in a bowl then also season the flour. Seasoning the flour will give the pork chops the best flavor.
Turn your oil to medium-high but remember not to turn the oil up extremely high because your grease will be too hot. Resulting in burnt pork chops on the outside.
Fry pork chops on both sides for about 3-4 minutes or until golden brown on both sides. Once fried take out and sit on a napkin and enjoy with some gravy for fried pork chops!
Bone-in Southern fried pork chops
So crunchy and delicious. Leaving your mouth watering and wanting more bone in Southern fried pork chops!
Ingredients
6

bone in pork chops

1

tbsp

seasoning salt

to your liking

1

tbsp

black pepper

to your liking

1

tbsp

garlic powder

to your liking

1/2

cup

flour

self-rising

1

cup

Vegetable Oil
Instructions
With clean pork chops add 1/2 tbsp seasoning salt on the front and back of meat

add 1/2 tbsp pepper and garlic powder on the front and back of the meat

Next, mix the rest of the seasoning salt, garlic powder, and pepper into flour

Add the pork chops into the flour mixture(coat the entire pork chops with flour)

Allow grease to reach 350-375 degrees

Allow to cook on both sides for 3-4 minutes

Take out the pan and place onto a napkin for 2-3 minutes to let grease drain
Video
Nutrition
Calories:
963
kcal
Carbohydrates:
13
g
Protein:
54
g
Fat:
78
g
Saturated Fat:
52
g
Cholesterol:
175
mg
Sodium:
1885
mg
Potassium:
909
mg
Fiber:
1
g
Sugar:
1
g
Vitamin A:
15
IU
Calcium:
55
mg
Iron:
2
mg